Mortgage costs less than journey to work for one Yorkshire resident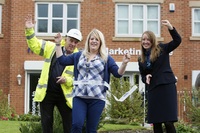 You would imagine that with statistics showing two-thirds of young people believe they have no prospect of getting on the property ladder, it would discourage many graduates from even looking at buying their own home. Not so in the case of one young Wakefield professional.
Claire Little 25, psychology graduate and play worker from Wakefield has successfully managed to discover a way in which she can take that all important step onto the first rung of the property ladder.
"After graduating three years ago, owning my own home was, so I thought, a natural progression, until I discovered the difficulties in getting a mortgage. I had managed to save a sizable deposit but still unable to get a mortgage offer. I knew that I didn't want to rent as I wanted the security of owning my own home. After speaking with a mortgage adviser I was told about the Government initiative FirstBuy," said Claire.
FirstBuy is an equity loan scheme, and if you qualify it could mean that you only need a five per cent deposit of the purchase price of the property. Award winning housebuilder, Miller Homes, and the Government could give you a twenty per cent equity loan, meaning you could only need a mortgage of the remaining eighty per cent of the purchase price.
Claire continued: "My parents were really keen for me to buy a new build, they like the security and low maintenance. After an online search I visited Miller Homes' Stonebridge Fold development in East Ardsley as it was close to where I work and in a great location. I found my ideal property and was delighted to discover it was available through FirstBuy."
"With over 30 per cent of potential first time buyers in the Yorkshire region not able to purchase their own home because they were unable to obtain a large enough mortgage, FirstBuy offers the ideal solution," said Jan Hanaby area sales manager for Miller Homes Yorkshire.
"Claire has managed to get that all important step onto the first rung of the property ladder because she was savvy enough to search for ways to help her dream come true. But it doesn't have to be so difficult, there are many options open to all types of buyers from first time to those needing a larger family home, all you need to do is visit us and together with our independent financial advisers we can offer many solutions. We are delighted that our apartments at Stonebridge Fold ticked all the boxes for Claire and her parents and look forward to welcoming Claire into the community."
The distance Claire will travel to work has been cut down by half but that's not the only saving she has made. Remarkably Claire commented: "I have worked out that it will actually be cheaper for me to pay a mortgage than I was paying for petrol to travel to work with each month!"
Stonebridge Fold in East Ardsley is a perfect location for commuting to any of the major towns and cities in West Yorkshire with excellent transport links to all major road and rail networks. It is conveniently situated just two miles from the centre of Wakefield and only six miles from Leeds. East Ardsley itself offers an excellent range of shops and the White Rose shopping centre is only three miles away.
Properties currently available under FirstBuy at Stonebridge Fold include the four bedroom Witham house priced just £134,400 using the scheme. FirstBuy is also available on selected plots across eight other Miller Homes' developments throughout the region.
For further information, visit millerhomes.co.uk.