Haven keeping it green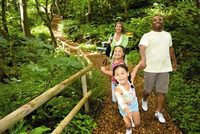 Haven Holidays' continued commitment to the environment has been rewarded with the news that three of its parks have achieved Special Distinction Awards in the 2011 David Bellamy Conservation Award Scheme.
Seton Sands in East Lothian, Quay West in West Wales and Devon Cliffs in Devon have all been singled out for the prestigious honour which is awarded to less than twenty holiday parks in the UK to 'highlight specific examples of best practice' to encourage other participants in the scheme.
Each park was informed of the good news through a personal letter written by Professor David Bellamy himself, who has long championed the value of holiday parks in providing easily accessible eco-friendly UK holidays.
Seton Sands was praised for its "exemplary approach to green transport", commending their fleet of mountain bikes for both staff and guests, their use of an electric vehicle and active promotion of the local bus service."
It was Quay West's hard work in creating "wonderful wildlife features," which really caught the eye of the assessors, with its new garden and "greenhouse made from bottles" receiving a special mention, while Devon Cliffs was nominated for encouraging holiday home Owners to work alongside the Parks own Green Team.
David Bellamy wrote "This kind of work is exactly the kind of thing I have in mind when I talk about the value of getting people involved in conservation."
These three special Distinction awards are just the latest green honours to be bestowed upon Haven. Recently an impressive 32 out of the company's 35 holiday parks were granted gold gradings in the prestigious David Bellamy Conservation Awards - with the remaining three achieving a still commendable silver ranking.
And 33 parks hold Green Tourism Business Scheme awards including four - Littlesea, Perran Sands, Riviere Sands and Hafan y Mor - currently hold gold awards.
Prices for greener holidays start at as little as £149 for a Spring break for a family of four.
For more information, visit haven.com.