Jaguar XKR-S Convertible debuts at LA Auto Show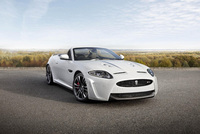 The pinnacle of the Jaguar sporting range – the XKR-S – is now joined by a convertible which offers the same enticing blend of abilities, while offering driver and passenger a heightened connection with their surroundings.

The XKR-S Convertible embodies all the characteristics that have always defined legendary Jaguar GTs – explosive performance, involving handling, relaxed comfort and discreet luxury – while taking Jaguar into a new performance echelon. The new XKR-S model line-up sits at the pinnacle of the XK range, which now consists of XK, XKR and XKR-S derivatives in coupe and convertible format.

The XKR-S Convertible takes the raft of performance, dynamics, design and interior upgrades already introduced to much acclaim on its coupe sibling to create Jaguar's fastest ever open-topped GT.

Adrian Hallmark, Jaguar Global Brand Director, says the new XKR-S Convertible represents the pinnacle of performance and glamour in motoring:

"There is nothing as liberating as life behind the wheel of an open-topped Jaguar and the new XKR-S Convertible takes the Jaguar GT experience to new heights."

The building block for the car's explosive performance is an uprated version of the 5.0-litre supercharged AJ-V8 engine, which produces 550PS (405kW) and 502lb/ft (680Nm) of torque. These figures represent a power increase of 8 percent and torque increase of 9 percent over the Jaguar XKR. Driving the rear wheels through a six-speed automatic gearbox with Active Differential, this propels the XKR-S Convertible to 60mph in 4.2 seconds (0-100km/h in 4.4 seconds) and on to an electronically limited top speed of 186mph (300km/h).

Underpinning this potent performance is a comprehensive package of suspension upgrades which refine the XK's dynamic abilities still further, creating an intimate connection between the car, the driver and the road, enhanced still further in this open-topped GT.

The lightweight aluminium structure of the XK has huge torsional rigidity, allowing the fitment of suspension components such as a redesigned aluminium front steering knuckle and revised rear geometry, stiffer springs and dampers. Allied to lightweight forged wheels and recalibrated steering settings this has allowed Jaguar's vehicle dynamics experts to create a supremely agile, connected driving experience with no loss in refinement.

Reflecting the car's uprated dynamic abilities are interior and exterior styling changes. Externally the XKR-S Convertible is dramatically differentiated from other XK models with carefully calibrated aerodynamic aids that allow it to perform flawlessly at very high speeds.

This sense of drama is continued inside the car with Jaguar Performance seats that feature increased support for driver and passenger during high-speed cornering. The seats are finished in carbon leather and feature 16-way adjustment and heating while carbon is also used to trim the cabin and emphasise the car's assertive nature.