Volvo welcomes new tax code clarification for diesel hybrid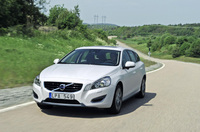 Volvo Car UK has welcomed the announcement from HM Revenue and Customs (HMRC) which means its new V60 Plug-in Hybrid will be classed as a 'hybrid' for tax purposes when it arrives next year.

Diesel-electric hybrids have now been incorporated in the type A tax band rather than the previous type D, which covers diesels but attracts a 3% levy on the Benefit in Kind (BIK) tax payment. This is likely to translate to a saving of at least £200 per year for company car drivers.

The clarification follows an analysis from HMRC rules and guidance notes by Volvo Car UK's tax consultants, Hampshire-based BCF Wessex, amidst fears that vehicles such as the low CO2 emitting diesel hybrids like the new V60 Plug-in at just 49g/km CO2 would inadvertently be incorporated in the diesel category.

Volvo Car UK's national corporate operations manager Selwyn Cooper, comments: "We are delighted that HMRC has both cleared up the confusion and acknowledged that the rightful banding for diesel hybrids is alongside its petrol hybrid siblings."

The V60 Plug-in Hybrid integrates the very best properties from three different car types into one single attractive sports wagon. At the press of a button, the driver can choose which 'type' of car to drive: pure, hybrid or power.