Buying a home in Mickleover is now 100 per cent easier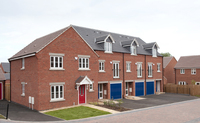 House-hunters know better than anyone how hard it can be to raise enough money to buy a new property. That's why Peveril Homes always strives to make it as easy and trouble free as possible to purchase at one of its developments – and V@Varsity Grange is no exception.
Visitors to this scheme of three- and four-bedroom new homes in Mickleover will find that there are several incentives available to help to get them moving – and a 100-per-cent mortgage* is just one of them. This is ideal for first-time buyers, as there is no need for a deposit. That's because 25 per cent of the mortgage is secured through a charge on the purchaser's parents' home.
Angela Thomas, sales and marketing manager at Peveril Homes, comments: "We are visited time and time again by house-hunters who are looking to move and can actually afford monthly repayments, yet the only thing stopping them is a lack of deposit. That's why the 100-per-cent mortgage is such a great solution. So, I advise anyone interested in moving sooner, rather than later, to visit our new homes in Mickleover as a matter of priority – especially as we recently launched a new phase."
In terms of location, you couldn't be better placed: Derby's bustling city centre is only minutes away, providing an excellent range of shops, eateries and a selection of primary and secondary education. The Royal Derby Hospital is within walking distance, while commuters will find the nearby A38 useful.
Prices at V@Varsity Grange currently start from £171,950. To find out more about these new homes in Mickleover, suitable for several different purchaser types, visit peverilhomes.co.uk.
*Subject to terms and conditions. Please ask for details.