Low deposits for new homes in South Derbyshire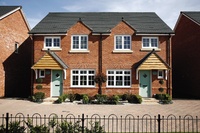 The average first time buyer is now in their late 30s, but those who aspire to homeownership could be living the dream much sooner thanks to FirstBuy.
Even better, they could find that savings of around £5,000 are enough to enable them to buy a brand new Redrow home at Priory Fields in Church Gresley.
Pauline Turnbull, sales director for Redrow Homes (Midlands), commented: "With lenders often requiring a deposit of 20% of the price of a home it's taking longer for people to accumulate enough cash up front. It means the age that people buy their first home is rising and according to the Bank of England could be as high as 44. However, would-be homeowners could find they are able to step onto the property ladder much sooner with FirstBuy, without having to scrimp and save."
The Government-backed scheme is designed to help those who would otherwise be priced out of the property market to buy a home of their own at a price they can afford.
With FirstBuy eligible customers who have saved £4,800 could find they only need a mortgage for £91,196* to buy a two-bedroom home at Priory Fields. The remaining share of the £119,995 purchase price is covered by an equity loan, jointly funded by Redrow and the Homes and Communities Agency.
The loan is interest-free for the first five years and can be repaid when the customer has more funds available or they come to resell.
The valuable help is available to first time buyers and those who want to return to home ownership. To be eligible for the help customers must have an annual household income of less than £60,000.
"First time buyers may think that they have to settle for an older property that's in need of lots of work to be able to afford a home of their own, but thanks to FirstBuy they won't have to compromise on style to be able to afford a new home," Pauline added.
Kitchens in new Redrow homes are well-equipped with integrated top brand name appliances including oven, microwave and fridge freezer, plus tall cabinets and extra wide drawers that offer plenty of storage; while family bathrooms and en-suites enjoy quality fixtures and fittings, with an exclusive tile range.
Current availability at Priory Fields includes two, three and four-bedroom designs, some of which are almost ready to move into.
Located off Swadlincote Lane, the development enjoys a traditional village setting with easy access to the East Midlands motorway network.
To find out how Redrow could help you buy your dream home, visit redrow.co.uk.
* The 76% mortgage is currently only available through Halifax. Other mortgages are available from other lenders.