FTBs can make stylish moves to 'The Strada' in Edinburgh!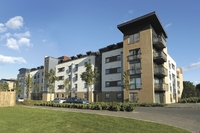 The Strada is helping first time buyers to make a stylish move with the launch of a really helpful first time buyers' package that includes free carpets, integrated kitchen appliances and a newly-launched furniture option that literally lets you move-in, make a cuppa and get on with life as everything you need to get you started in your own home is provided for you! Plus shared equity (80/20) is also available on selected plots.
The furniture package combined with our free carpets and integrated kitchen appliances offers stylish stress-free living at its best. With two sofas, a coffee table, a choice of TV unit or two lamp tables for the living room, plus bedroom furniture and beds that are even made up for you on move-in day, through to towel bales, a 16-piece dinner set, a kettle and toaster, a set of pans, cutlery, utensils, as well as an ironing board and iron - our furniture package offers everything you need to get on with enjoying your apartment. Plus this impressive development is just minutes from the buzz of Stockbridge, and offers first time buyers an affordable move onto the property ladder that won't break the bank with one bedroom prices starting from just £140,000, or £112,000* when using the shared equity scheme.
Each apartment boasts a central hallway that welcomes buyers into a property that effortlessly flows to reveal an open-plan living space that includes an area for informal dining – perfect for entertaining guests, or a quiet informal supper. There's also an impressive 'Manhattan' kitchen in each apartment that's sure to inspire the cook of the house!
Inspired by the Italian for 'street' - The Strada is a joint venture between Bett Homes and Taylor Wimpey and is a flourishing development situated off Ferry Road, in North Fettes. The bustle and energy of Stockbridge is just minutes away, whilst the tranquillity of neighbouring Trinity creates a living environment at The Strada that offers the best of all worlds.
The choice of one and two bedroom apartments, three bedroom penthouses, and the impressive four bedroom duplex apartments at The Strada offers buyers the chance to enjoy chic city-centre living without the matching price-tag.
Karen Armstrong, sales and marketing director for Taylor Wimpey East Scotland adds:
"Our latest range of offers at The Strada will truly inspire first-time buyers to get on the move because the introduction of our furniture option really takes away the stress and hassle of moving house – especially if you're considering a move out of rented accommodation.
"Everything's there for you on day one, and the furniture is even supplied ready-built and then placed in each room. Plus your kitchen's fully equipped right down to a chopping board, knives and of course wine glasses – you just need to bring the wine!
"And with an impressive range of apartment styles - I'm sure buyers will find their perfect space to feel right at home here. Plus, we currently have a choice of entry dates so buyers who reserve now have the choice of whether to move now, or take a bit more time to save up their deposit. Plus don't forget to ask about our star-buy plots."
For further information, visit thestrada.com.

*price based on a one bedroom apartment normally £140,000 available for £112,000 using the shared equity incentive (80/20). Shared equity is available on selected plots, please ask for details.