St Raphael Resort introduce choc-tastic treatments at Serenity Spa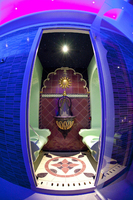 Earlier this year, the award winning 5-star St Raphael Resort in Cyprus, opened its brand new Serenity Spa which has introduced a variety of brand new chocolate treatments! Chocolate lovers can indulge their senses as well as their sweet tooth with an array of luxurious and tasty treatment packages plus they can sit back and enjoy a complimentary Hot Chocolate with every treatment!
Replacing the hotel's health and beauty centre, the whole facility was completely transformed into a luxurious spa haven, offering guests an extensive range of spa treatments including the Rasul treatment; a traditional Arabic cleansing ritual as well as brand new facilities including an indoor swimming pool, water-jet massage bed, a solarium, a beautician's suite and a relaxation room.
The chocolate inspired treatments range from a firming chocolate peeling massage to a nourishing cocoa bean peeling and full chocolate body mask! Chocoholics will be delighted to learn that since the cocoa in chocolate is a source of antioxidants, these treatments will not only feed the senses but also the skin.
Serenity Spa welcomes both men and women and tailored spa packages can be created for our guests by the Spa Manager. Couples who want to indulge in a chocolate feast together will receive a special 15% discount.
A TASTE OF CHOCOLATE €50: A firming chocolate peeling massage and chocolate body care lotion
CHOCOLATE DREAM DUO €128: A chocolate peeling massage and moisturizing cocoa butter facial
RASUL RITUAL + COCOA MASK €60 (single) €100 (couple) A cleansing ritual that combines the health enhancing properties of heat, aroma infused steam and a special type of Rasul cocoa clay mask for a totally relaxing and skin conditioning treatment in a magical and sensory private steam temple.
For further information about St Raphael Resort and Serenity Spa, visit raphael.com.cy.