Renault Kangoo Van Z.E. voted International Van of the Year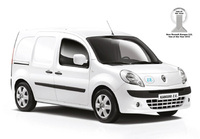 With 104 points out of a possible 168, Kangoo Van Z.E. has won the coveted International Van of the Year prize, beating the Iveco Daily, Fiat Ducato and VW Caddy. The award was presented to Jean-Marie Hurtiger, Director of Renault's Light Commercial Vehicle division, on the eve of the 14th International Trailer Show in Belgium. Jury chairman Pieter Wieman explained: "With the Kangoo Van Z.E. Renault brings the electric van within the reach of the normal European van user," he said, "thereby delivering a major contribution to environmental sustainability, one of the most important issues of the transport of goods by road nowadays."

Jean-Marie Hurtiger said: "This prize rewards the work of the people at Renault who have worked for several years on the Kangoo Van Z.E., one of Renault's four electric vehicles to be launched in the next 10 months. All of the company's functions were involved in the adventure, including the design office, the Maubeuge plant and sales. They met the challenge in a remarkable manner, showing determination, creativity and, above all, an excellent team spirit that has now produced results."

Kangoo Van Z.E., a light commercial vehicle by Renault
Renault, the European leader in light commercial vehicles since 1998, has extended its line-up with Kangoo Van Z.E., the 100% electric version of Kangoo. It is the first fully-electric van produced entirely in-house by a vehicle manufacturer.

By fitting the battery under the floor of Kangoo Van Z.E., Renault has kept the same load capacity and dimensions as the internal-combustion version. Its engineers have also worked hard to retain the same 650kg payload. Kangoo Van Z.E. comes in two lengths and three versions, all of them produced at the MCA Maubeuge plant in France on the same line as its internal-combustion engine sister: Kangoo Van Z.E. and the two- and five-seat Kangoo Van Z.E. Maxis. This range responds to the varied needs of business users, with load volume ranging from 3 m3 to 4.6 m3 and the flexibility to carry goods and passengers

The first widely-accessible Z.E.
Kangoo Van Z.E. is the first of four vehicles in the Renault Z.E. range to be launched in the next 12 months. It arrives in UK dealerships on 1st December priced from £16,990 excluding VAT. The battery is hired for a monthly fee with a variety of mileage and duration permutations. For example, a 3 year/12,000 miles per annum contract is £74 per month excluding VAT.

Just released and already winning acolades
The International Van of the Year is the culmination if a series of prizes rewarding Kangoo Van Z.E. Following Van of the Year in Denmark, voted by a jury of motoring journalists, and Fleet Transport Green Commercial in Ireland, selected by the Fleet Transport Awards jury of experts, it's the third trophy won so far by Kangoo Van Z.E. in Europe.

* zero-emission in use