National award recognises outstanding starter homes in Birkenhead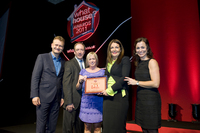 First time buyers on Wirral could now move to an award-winning development after Lovell scooped a prize in the category of Best Starter Home at a prestigious national awards ceremony.
Often referred to as 'the Oscars' of housebuilding, the What House? Awards are an annual event which recognises the best the UK housing industry has to offer.
This year Lovell was honoured with a bronze award for its two -bedroom 'Hamilton' house at Sevenoaks, in Birkenhead. Not only impressed by the high standard of the development, the judges said: "Lovell offers such a wide range of schemes and incentives that the judges felt should be acknowledged in addition to the property itself. With such a choice of financial packages at Sevenoaks, all first-time buyers should be able to get on the ladder."
Elaine Taylor, regional sales manager for Lovell said: "It's a real honour to have been recognised for the quality and affordability of our homes in Birkenhead at the highest possible level. At Sevenoaks we have striven to provide first time buyers and young families with homes that cater for their needs as well as offering them help to buy through a range of incentives schemes. It's fantastic to be noted as a company that is setting the standard for the industry by building homes that first time buyers can afford and also be proud to call home.
"We're beginning to see a real community developing Sevenoaks as more people move in and we look forward to welcoming more purchasers to this award-winning development."
It's easy to see why Sevenoaks stood out for the judges as a great development for first time buyers. It is ideally located for all the shops and amenities of Birkenhead, including the Pyramids Shopping Centre, and also enjoys easy access to Liverpool or Chester city centres by road or rail from the adjacent Rock Ferry train station.
Judges said the space on offer in the house made the layout "flexible" and also commented on the choice of kitchens and tiles available saying: "First-time buyers really can make this starter house a home."
The homes also benefit from a number of eco-friendly features, including solar panels, water butts, recycling bins and compost bins. The solar panels enable residents to reduce the cost of their fuel bills; another feature which has appealed particularly to the first time buyer market.
Current prices for three and four-bedroom homes at Sevenoaks start from £129, 995. These are available to buy through the Government-backed FirstBuy scheme, which helps purchasers by offering a 20% equity loan.
Now in their 30th year, the What House? Awards are the most coveted and longest established new homes awards, celebrating the achievements of housebuilders and developers in the UK, both large and small, across 21 categories.
Rupert Bates, editorial director of whathouse.co.uk, said: "The What House? Awards, considered the 'Oscars' of the housebuilding industry, showcase some of the UK's most exciting and dynamic new developers, as well as highlighting the innovations among the industry's big players. This year's awards ceremony has been one of the biggest and most successful ever.
"It is great to see that, even in an extremely tough economic climate, so many housebuilders and developers have sustained their ethos on quality."
For more information, visit lovell.co.uk.