Taylor Wimpey helps clear up first time buyer confusion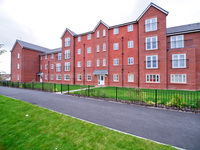 First time buyer's today are confused! There's the conflicting newspaper reports on the property market to make sense of, the tens of thousands they think they need to save for a deposit and the prospect of having to stay at mum and dads until their mid 30's.
With all of that to contend with it's no surprise that many have given up hope of ever owning their own home, or at least not until they've won the lottery! But this doesn't have to be the case, as Taylor Wimpey, which is building homes suitable for first time buyers at its Speakman Gardens development in Prescot, has the answer – FirstBuy*.
Sam Williams, associate sales director for Taylor Wimpey North West, explains: "It's quite shocking how many first time buyers we speak to that have no idea that schemes such as FirstBuy are in existence and designed with one clear goal in mind; to get them onto the property ladder. It's important they know that FirstBuy is out there waiting to be taken advantage of, so the more first time buyers we can speak to about it the better."
Here Sam helps to clear up some of the confusion facing first time buyers and explains how you can buy your first home at Speakman Gardens with a deposit of just £4,998!*
How can I buy my own home when you need a huge deposit to do so?
Whilst it's true that if you buy a second hand home you may need a large deposit, you only actually need 5% if you buy one of our new homes on the FirstBuy scheme. This can equate to as little as £4,998, which should be more achievable for first time buyers.
I don't understand what FirstBuy is – how can it help me?
FirstBuy is a scheme that was launched by the government earlier this year and is designed specifically to help first time buyers like you. Taylor Wimpey and the Homes and Communities Agency (HCA) will jointly loan you 20% of the value of the property you want to buy, with you putting in 5%. Together that equates to a 25% deposit – meaning you only have to get a mortgage for 75% of the property value, something that we can help you to arrange.
When do I have to pay back the loan?
The loan will need to be paid back if you ever sell the property, or if you stay there permanently, at the end of the mortgage term.
I'm a first time buyer – will I be able to use the FirstBuy scheme?
You have to meet certain criteria to be eligible to buy a home using the scheme. The best thing to do would be to visit Speakman Gardens (or any one of our developments offering FirstBuy), and speak to our experienced team. They can explain how it works and see if it's suitable for you. If you're eligible then they can process your application, meaning you could be buying your first home much sooner than you thought.
Can FirstBuy really help me to buy my own home?
Yes it can. We're currently helping a number of first time buyers across the region buy their first home using the FirstBuy scheme.
Speakman Gardens comprises a collection of two bedroom apartments and three and four bedroom homes with prices starting from just £99,950 (or from as little as £79,960* using FirstBuy*).
Sam concludes: "If you're a first time buyer looking for a new home in Prescot then I urge you to visit Speakman Gardens to find out more about FirstBuy. Who knows, you could be buying your first home much sooner than you thought!"

For further information, visit taylorwimpey.co.uk.

* Subject to affordability and circumstances on selected plots only. Terms and conditions apply and full details will be provided on request. Your home may be repossessed if you do not keep up repayments on your mortgage.