Toyota and Lexus Fleet Services invest to meet customer needs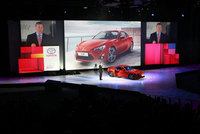 With a wave of exciting new models including four new tax efficient hybrids, a new communications programme, an even better After Sales proposition and systems that will deliver easier access and support for customers; Toyota and Lexus Fleet Services are investing to support their customers in the fleet market.
The plan for success was unveiled at the annual Toyota and Lexus Fleet Services conference attended by 500 business customers at the NEC Birmingham at the beginning of December. They heard from Ewan Shepherd, General Manager for Toyota and Lexus Fleet Services, how the strategy will include raising Toyota and Lexus's profile within the fleet industry and prospects, strengthening relationships with current customers, capitalising on global leadership in hybrid technology and delivering better customer communications. A significant increase in budget is being allocated to achieve these goals.
The aim for Toyota and Lexus Fleet Services is to build on its strengths, backed up by achieving top positions in the 2011 Sewells Fleet Survey, of exceptional cost of ownership, taxation benefits, and service delivery alongside new products that meet the needs of the fleet market. Investment in a new fleet charter which starts from January 2012 outlines a series of commitments to improve customer relationships, making it easier and simpler to deal with Toyota and Lexus Fleet services for both sales and after sales.
Looking ahead to a busy year for new models, the conference highlighted the further advances in fuel efficiency, low emissions and zero-emissions electric driving range that will be offered by the next development of Toyota's hybrid technology, Prius Plug-in Hybrid. This will be launched next year, together with the new Yaris Hybrid – a new entry point for hybrid technology – and the versatile Prius+ seven-seat MPV. The launch programme for 2012 also includes the new Avensis, the much anticipated Toyota GT 86 sports car and the all-new full hybrid Lexus GS 450h.
The extra investment in communications will introduce personalised web portals for customers to access their account information on-line. This will make it quicker and easier for users to view information tailored to their requirements, make demonstrator requests and maintain a dialogue with their Toyota and Lexus Fleet Services representative.
Introducing the right product at the right time and putting the customer first are central to this strategy," said Shepherd. "Deliveries of the new 2012 Avensis start from January next year, and with this being our strongest-selling fleet model, next year's performance is set to build on the momentum of this introduction right from the start.
Our message at the conference and to all fleet operators is that we will be delivering improvements in all areas of our fleet strategy, showing that drivers can save thousands of pounds in tax and lower their running costs, leading to a stronger business performance in 2012 and beyond."