Last chance for FirstBuy at Park Central, Birmingham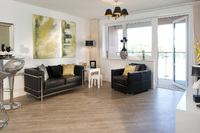 Crest Nicholson is urging first-time buyers wishing to take advantage of the government's FirstBuy scheme to visit its Park Central development sooner rather than later, as there are now only three FirstBuy properties remaining at the popular Birmingham development.
FirstBuy is designed to make getting onto the property ladder affordable for first-time buyers. The initiative means that purchasers will own 100 per cent of their home for just 80 per cent of the price as Crest Nicholson and the Homes and Communities Agency offer a loan of up to 20 per cent of the full purchase price. The loan is equity free for the first five years, after which a fee of 1.75 per cent is payable. Loans must be repaid when the home is sold.
According to research by Rightmove.co.uk, 45 per cent of potential first-time buyers say they are now more likely to get on the housing ladder thanks to the FirstBuy scheme.
Ruth Williams, sales manager at Park Central says: "The government introduced its FirstBuy initiative to help first-time buyers get onto the property ladder and recent statistics reveal that it is indeed helping. It has been incredibly rewarding to see this scheme be such a success at Park Central and I would hate for anyone who has been holding off purchasing an apartment under FirstBuy to miss out on this fantastic opportunity. With just three FirstBuy homes remaining I would urge anyone who doesn't want to miss out on the savings to come and visit the sales team at Park Central sooner rather than later."
Under FirstBuy the stylish Lincoln two-bedroom apartment can be purchased for just £114,800, marking a saving of 20 per cent off the £143,500 list price.
The remaining two-bedroom apartments, which are available under the FirstBuy scheme at Park Central, are all located in Park Central's Lower Parkside – the latest £15 million phase of the development. Each luxury apartment benefits from a stylish, designer kitchen, contemporary bathroom and spacious balcony, whilst being located at the centre of eight acres of parkland in Birmingham city centre.
Ruth continues: "It is easy to understand that first-time buyers are confused about the current property market, with many under the impression that it is impossible to purchase their own home. Under FirstBuy however you only need a deposit of around £7,250 which actually makes a new home affordable for many more people. If you have any queries about FirstBuy or want to see how Crest Nicholson's tailor-made initiatives could help you then drop into the marketing suite at Park Central and we'll happily discuss what's available."
For those who don't meet the FirstBuy purchaser criteria Crest Nicholson's own EasyBuy scheme is also still available at Park Central. With EasyBuy you pay just 85 per cent of the price of your new home – a five per cent deposit and 80 per cent mortgage. The remaining 15 per cent share is covered by an equity loan to be paid back at a convenient time. This loan is interest free for the first five years, with a low interest rate fixed at just three per cent APR from the start of year six. The only requirement is that the equity loan is paid back within 10 years of the original completion date; or if you sell the property, the 15 per cent must be repaid at the property's current open market value. Homes available with EasyBuy at Park Central currently start from £136,950.
Situated off Bath Row in the heart of the city centre, Park Central is nearly two thirds of the way through a 12 year build programme and has been widely credited throughout the UK property industry as an exemplar of city centre regeneration and sustainable development.
For more information on Park Central, visit parkcentral.co.uk.