Recommend a friend pays off for homebuyers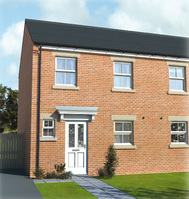 A builder from Morpeth has bagged himself £1000 by recommending his friends to move into the house next door to him at the Miller Homes 'Miller @ Beaumont Court' development in Pegswood.
Stephen Foster, 28, purchased his new three-bedroom semi detached home late last year and was so impressed with his new neighbourhood that he encouraged his pals Chris and Amy Lyall to move into the adjoining home. As a thank you, house builder Miller Homes presented him with the big cash reward, which he says he will spend on furnishing his new home.
The friends may receive a further £1000 as they have since recommended another couple, Jenny and Malcolm Sanderson who are set to move onto the development later this year, once their new home is complete.
Stephen said: "I reserved my new home last year and moved in just in time for Christmas. I am a site manager myself by trade, so the standard of build was important to me and I knew Miller Homes had a good reputation as they had received several quality awards for their build programmes.
"I was so impressed by the quality of the build, the layout of the rooms, the quiet location and the friendliness of the area that when my mate Chris told me he was looking for a new home, I told him that without a doubt he should consider a Miller home at Beaumont Court. I invited him round to see my new home, which he fell in love with and the next day he went to the sales office and reserved his own.
"I'm over the moon with the £1000 it will go nicely towards paying off my first mortgage repayment and furnishing my new home.
"We have since both recommended another friend of ours to the street – but I'll let Chris take the winnings for that one!"
Miller Homes regional sales director Steve McElroy said: "Miller Homes offers all our homebuyers the golden opportunity to earn £1000, by recommending a friend to buy one of our homes too. All the current buyer has to do is tell a friend, work colleague or relative who's considering moving about Miller Homes and once the chosen friend has legally completed on a plot the recommender receives £1000. It's a win-win situation – they get to own a lovely new home and the other receives £1000!"
Pegswood, located near the historic town of Morpeth in Northumberland has excellent amenities but remains quiet and filled with a family friendly atmosphere. Pegswood has easy and convenient access to the A1, which provides links to Newcastle and the rest of the North East.
For more information, visit millerhomes.co.uk.