Hike into Italy from Europe's "hidden gem"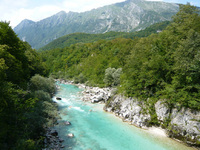 Brand new for 2012 is Hedonistic Hiking's gourmet guided walking holiday from Slovenia into Italy. The nine-day hiking tour starts in the Slovenian capital of Ljubljana, which many liken to a mini Prague and call a "hidden gem" of Europe. It continues through the Julian Alps, crosses the border between the two countries into Friuli, Italy's north eastern region, and finishes in Venice.
The hike includes Lake Bled with its magical fairytale castle and three nights beside beautiful Lake Bohinj encircled by the Julian Alps. Following the course of the stunning turquoise Soca river leads to historic Kobarid, today the culinary capital of Slovenia boasting many fine restaurants. Crossing into Italy on foot brings you to Friuli with an opportunity to visit the two Unesco World Heritage sites of Cividale and Aquileia, and sample the magnificent wines of the Collio region.

As Jackie, MD of the company, explains: "Many people refer to Slovenia as "the sunny side of the Alps". The walking is wonderfully scenic and the views from the mountains totally breathtaking. But Slovenia has a thriving wine industry and strong culinary traditions too which we will have a chance to explore on this tour."
The holiday runs twice in the year from 3rd - 11th June 2012 and 2nd - 10th October 2012. The walking groups are small (maximum 16 people) and the support vehicle enables you to walk as much or as little as you please each day.
Jackie and Mick Parsons own and operate Hedonistic Hiking, a company specialising in fully-guided gourmet walking tours in Italy and Australia. They are passionate about food, wine and walking.
The price for the Slovenia and Friuli Tour is €2625 per person and is fully-inclusive. For booking and full tour details, visit hedonistichiking.com.