Get more house for your money in Oakham with Linden Homes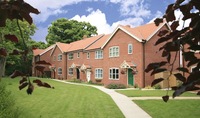 Buyers looking to snap up a brand new family home in Oakham in early 2012 can save around £74,000 with Linden Homes.
Purchasing a newly built four-bedroom home at the prestigious new Orchid development is currently cheaper than moving to a second hand property just a mile away, research reveals.
According to the latest figures from an national independent property price index, the average price of a four-bedroom home (either new or second hand) is just under £320,000 – compared with the Linden Homes starting price of £245,995 for a four-bedroom detached home with garage.
In addition, a three-bedroom semi detached home at Orchid starts in price from £189,000 – almost £11,000 cheaper than a three-bedroom home within a one-mile radius (£190,923).
Some of the new three and four-bedroom homes at the recently launched development at Cold Overton Road, have already been reserved.
A number are due for imminent completion while others will be ready by autumn 2012, giving buyers the opportunity to reap the benefits of buying off plan.
These include; energy efficient fittings, double glazed windows, brand new kitchen and bathroom, and a blank canvas to allow owners to put their own stamp on the home.
Linden Homes' sales director Steve Garton said: "The interest in this development has been overwhelming, given that it is relatively new. And with buyers having the opportunity to save in the region of £74,000 on a brand new home, there has never been a better time to buy.
Prices at the development currently range from £189.00 to £245,995.

For more information on Orchid, visit lindenhomes.co.uk.