'E' is for even greater efficiency in new Audi A5 TDI models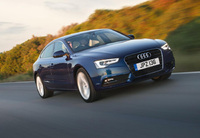 Two Audi TDIe engines famed for their frugality, two body styles coveted for their curves and an attractive new SE Technik specification join forces to highly desirable effect in the latest A5 Coupe and A5 Sportback ranges. The beautifully proportioned pair share the latest 2.0-litre TDIe engine delivering 163PS with CO2 output of as little as 115g/km and the potential for up to 64.2mpg. The Sportback also offers a 136PS version of this unit with a very similar blend of attributes, and combines this with a very attractive starting price of £27,320 OTR, making it the most cost-effective TDI in the new generation A5 range.

Both four-cylinder diesel engines are characterised by low internal friction for optimum operating efficiency, variable turbine geometry for the sharpest possible response across the rev range and a new centrifugal governor in a dual-mass flywheel designed to further boost refinement. The new, lighter flywheel also improves engine response at low revs and therefore permits earlier up-shifts for more efficient driving.

The A5 Sportback 2.0 TDIe 136PS can accelerate from rest to 62mph in 9.5 seconds, reach a top speed of 132mph where conditions allow and return up to 64.2mpg according to the official combined cycle test, equating to impressively low CO2 output of 117g/km. The 163PS version reduces the acceleration time to 8.7 seconds, increases the top speed to 137mph and yet is still able to achieve up to 62.8mpg with a negligible increase in CO2 output to 118g/km.

In the Coupe the 163PS engine fares even better, pushing the TDIe to 62mph in 8.4 seconds on the way to a top speed of 140mph, raising economy to 64.2mpg and taking CO2 to 115g/km, the lowest level in the revised range. In each case these engines are linked exclusively to six-speed manual transmission.

In addition to the new 'e' units the TDI range in the A5 Sportback continues to include 143PS and 177PS versions of the 2.0-litre engine, and the 3.0-litre V6 TDI in 204PS and 245PS forms, the latter linked to quattro all-wheel-drive without exception. The A5 Coupe is available with the 177PS 2.0-litre TDI and the two V6 TDIs.

New SE Technik specification for all four-cylinder TDIs

In both Sportback and Coupe models all the four-cylinder TDI engines can be combined with a new, highly cost effective SE Technik specification seen first in the A4 Saloon and Avant ranges. At a premium of £1,000 on top of the SE model price for the Sportback or £500 on top of the SE price for the Coupe, it adds DVD satellite navigation, Audi Music Interface (AMI) iPod connection, the Audi Parking Plus system with front and rear sensors and cruise control to the familiar SE equipment list.

In both models SE specification already includes 17-inch alloy wheels, Milano leather upholstery, three-zone climate control, Bluetooth mobile phone preparation and a colour Driver's Information System (DIS). Both TDIe engines are also available allied to Standard, SE and S line trim in the A5 Sportback, and Standard and SE in the Coupe.