Canon IXUS 510 HS and IXUS 240 HS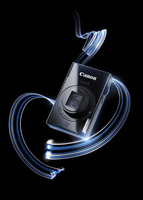 Canon adds to its premium IXUS range with the launch of two new outstanding touch screen models – the IXUS 510 HS and the IXUS 240 HS. Fusing first-class design with Canon's signature image quality and new Wi-Fi functionality, both models make it easier than ever to shoot photos and Full HD movies in exceptional detail and share them instantly with friends and family. Combining a high quality and compact 12x optical zoom with a highly-pocketable, luxurious and chic design, the IXUS 510 HS is the perfect take anywhere camera for style-conscious users, while the IXUS 240 HS's slim and elegant design and fun functionality are ideal for shooting and sharing images, anytime and anywhere.
Quality meets design
Canon's advanced imaging technology ensures superb results, no matter the subject being shot or the conditions. Both models feature cutting-edge genuine Canon lens technology, enabling the capture of sweeping vistas or distant detail with the powerful zooms in each camera. The IXUS 510 HS's impressive 28mm wide-angle 12x optical zoom lens packs into a body measuring just 19.8 mm front-to-back, while the IXUS 240 HS's 24mm ultra-wide-angle 5x optical zoom lens comes in a high-grade, super-slim body – offering exceptional quality and versatility. Canon's ZoomPlus technology means users can extend the zoom of their camera and get even closer to the action, while maintaining higher quality than traditional digital zoom. With ZoomPlus, the IXUS 510 HS' zoom extends beyond its 12x optical zoom to 21x, while the IXUS 240 HS reaches past its 5x optical zoom to 10x.
The IXUS 510 HS and IXUS 240 HS also feature Canon's Intelligent IS, providing advanced image stabilisation that offers the freedom to shoot a range of subjects with confidence. Harnessing each model's 3.5-stop optical Image Stabilizer, Intelligent IS rapidly analyses the shooting scene and automatically adjusts the camera's settings, selecting from seven different stabilisation modes to ensure photos and movies remain clear and with minimal blur.
Powered by Canon's HS System, which optimally combines high resolution, high-sensitivity CMOS sensors with next-generation DIGIC 5 processing, both models offer image quality that reflects what the eye sees. Offering supreme performance in all conditions, and especially in low light, both the IXUS 510 HS and IXUS 240 HS allow users to capture and share experiences with incredible levels of detail and clarity.
Sharing made easy
With the new models, users can instantly share their favourite images and movies, whenever and wherever they may be thanks to new integrated Wi-Fi connectivity. The new CameraWindow application allows photos and movies to be wirelessly transferred directly to a range of Apple iOS mobile devices for instant sharing on the move. Using the same application, users can also share photos via email, upload them to Facebook with their own comments, or even upload movies to YouTube.
Also launching today with the new IXUS models is the newly designed and enhanced CANON iMAGE GATEWAY, Canon's online facility for sharing photos and video. Now providing up to 10 GB of personal storage capacity, it is perfect for storing many photos, even in full resolution. An easy interface allows users to search for images, create combined photo and movie Albums that can receive comments from friends, and to share Albums directly via email and Social Networking Sites. With the new Wi-Fi IXUS models, photos can be uploaded directly to the CANON iMAGE GATEWAY without the need for a computer, using just the cameras' wireless menus and home wireless networks.
Complete control at your fingertips
Both models feature large, bright and vibrant 8.0 cm (3.2") PureColor II Touch LCD displays with sharp 460,000-dot resolution, giving exceptional colours and accurate contrast. They are ideal for reviewing newly-captured images and movies and showcasing them to friends. The highly responsive touch navigation and customisable on-screen icons provide quick, easy access to camera settings, menus and a user's entire photo collection, so photos can be quickly selected to upload to social networks and comments even typed in. The touchscreen also powers Canon's Touch Shutter functionality which makes it possible to compose and shoot with a single touch of the screen.
Point and shoot creativity
For those who like to point and shoot for excellent images, Canon's latest Smart Auto mode now identifies up to 58 different scenes.
The new Face Identification (Face ID) functionality included within Smart Auto enables users to get the best possible shots of friends and family, making it easy to capture tricky subjects with new levels of clarity. Face ID allows users to register family faces and their birthdays within the camera, it then stores this information, and with Smart Auto adjusts image settings accordingly. For example, when taking a picture of a sleeping baby, Face ID will identify the subject, automatically disengage the flash and adjust the exposure to give the image a brighter feel. If a child over the age of two is identified, the camera will automatically engage Servo AF in anticipation of movement, enabling sharper pictures of children that are often difficult to capture. Users can even browse their photos in-camera by name, so images of their friends and family can be easily and quickly searched and reviewed.
Each model also features Multi-area White Balance which detects multiple light sources and corrects the colour balance for each, delivering natural images in challenging conditions featuring multiple light sources. An enhanced range of creative shooting modes also expands the gamut of effects users can explore, with two new modes added. In addition to Toy Camera, Miniature and Fish-eye Effect, new Smooth Skin Effect improves portraits by smoothing out skin textures, while Soft Focus Effect simulates the dreamy effect provided by a dedicated soft-focus lens. Both new modes offer three effect levels, enabling the user to pick a level to suit the subject.
High resolution stills, high defintion video
In addition to exceptional stills, the new IXUS 510 HS and IXUS 240 HS feature Full HD (1080p) movie recording with stereo sound. A dedicated movie record button enables instant switching from stills to movies, while optical zoom can also be utilised in both cameras in movies. Integrated HDMI connectivity also enables sharing with friends and family using HD TV screens. To help tell the story behind a day's images, Movie Digest mode captures four seconds of movie before each still shot is taken and then merges all the clips together in HD (720p) quality for a fun reminder of the day's events.
The IXUS 510 HS: Seriously compact, catwalk style
As well as offering stand-out image quality, the IXUS 510 HS takes IXUS style to a new high. With a 10.1MP high-sensitivity CMOS sensor and exceptional 12x optical zoom, users can enjoy the flexibility to capture a range of subjects in exceptional quality, and then share images instantly using the integrated Wi-Fi connectivity. Revisiting the classic style of the original IXUS design, the IXUS 510 HS's sleek, sharp-edged exterior truly epitomises the IXUS luxury design philosophy, offering a stylish, compact body that can be taken anywhere. The futuristic lens cover and brushed matte finish, available in striking black or white, also adds to the premium styling.
The IXUS 240 HS: Exceptional style and ease-of-use
Combining advanced features with effortless functionality, the IXUS 240 HS is perfect for anyone looking for a camera that fuses style with substance. Its 16.1 MP resolution offers exceptional detail, while its ultra-wide angle 24mm 5x optical zoom genuine Canon lens offers great flexibility that can be carried in virtually any pocket. Available in five contemporary metallic colours so users can pick a style to match their personality, the IXUS 240 HS is ideal for social shooting, such as holidays or evenings out with friends – allowing high quality images to be shared immediately after they are taken.
Pricing and Availability
The IXUS 510 HS is available from April 2012, priced at £349.00/€399.00 RRP incl. VAT.
The IXUS 240 HS is available from March 2012, priced at £279.00/€319.00 RRP incl. VAT.