Now is the time to buy with Redrow in Manchester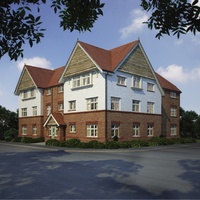 With the latest research from the Halifax showing that on average it's over £100 a month cheaper to buy than rent in the UK, Redrow is offering an added incentive to first time buyers in Manchester.
The housebuilder has the Government-backed FirstBuy scheme available on selected apartments at Hayes Green, in Cadishead, which gives purchasers the opportunity to defer 20% of the asking price by taking advantage of an interest free loan.
"We've been saying for quite some time that it is a good time to buy and these latest statistics from the Halifax prove it," says Redrow (NW) sales director Anita Williams. "Homes are competitively priced, interest rates remain low and with incentives such as FirstBuy enabling you to purchase without a large deposit, would-be home owners should be asking themselves whether they can afford not to buy."
The Halifax research compared the typical monthly cost of buying a three-bedroom house in December 2011 and found it was 16% lower than the average monthly rent paid on the same property type. Compare this with three years ago when the average cost of buying was 29% higher than the average rent paid, and it's clear the market has seen a significant shift.
Anita added: "House prices are remaining at the lowest rates for several years, mortgage rates and availability have improved and rents have risen by 5% over the past year. When you consider all these factors, if you've been thinking about taking a step on to the property ladder, it's a fantastic time to go for it. Even if you are worried about not having saved for a large deposit, there are options out there for you such as FirstBuy."
FirstBuy is open to those with a household income of less than £60,000 and is designed to make homeownership more affordable with the help of an equity loan jointly funded by Redrow and the Homes and Communities Agency.
It means a one-bedroom apartment at Hayes Green could be snapped up for an initial outlay of just £75,196, including a deposit of only £3,759 (full asking price £93,995). The loan is interest free for five years and can be repaid when buyers have more funds available.
Current availability at Hayes Green also includes two bedroom apartments, plus a range of two and three-bedroom homes from Redrow's sought after New Heritage Collection.
Thanks to its great location, with easy access to Manchester city centre by road or rail, Hayes Green has proved popular with professionals working in the city, couples and families.
For further information, visit redrow.co.uk.