New homes in Watford are ideal for first-time buyers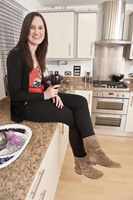 First-time buyers can secure selected apartments at Taylor Wimpey's Leggatts Green development of property for sale in Watford with just a 5% deposit under the FirstBuy scheme – as Vicky Cleevely discovered to her benefit.
Like many people in their early 20s, Vicky Cleevely was worried she would never be able to afford to step onto the Hertfordshire property ladder.
Daunted by the prospect of having to raise tens of thousands of pounds for a hefty deposit on a new property in Hertfordshire, the 24-year-old secondary school teacher was resigned to a good few more years of renting.
But, after hearing about the fantastic FirstBuy scheme, Vicky discovered she could buy one of the brand new apartments for sale in Watford at Taylor Wimpey's in-demand Leggatts Green development for 80% of its full price – and only had to find a 5% deposit.
"Without FirstBuy, I simply wouldn't have been able to afford my own home," says Vicky, who teaches history at Queens' School in her hometown of Bushey, reflecting on her search for flats for sale in Watford.
"When I was investigating buying on the open market, it soon became clear that for a property in the region of £200,000 I would need a deposit of at least 15% to 20% – which could be up to £40,000.
"But with FirstBuy I only needed a 5% deposit, which meant a new home was well within my reach."
While the Government-backed FirstBuy scheme turned out to be perfect for Vicky, she was also impressed with the guidance she received from Taylor Wimpey Watford prior to her signing on the dotted line.
"I had visited another housebuilder's development in Watford but they were too pushy – it felt as though I was being encouraged to overstretch myself financially just so they could make a sale," says Vicky.
"But when I visited Leggatts Green, I never felt pressured by the Taylor Wimpey staff, they were very realistic about what I could afford and I felt there was no urgency to buy.
"Such good customer service paid off because it meant I could make an informed choice in my own time – although it didn't take long because I saw the show apartment on a Saturday and reserved my home the very next day!"
Vicky moved into her one-bedroom apartment with her pet dog Enzo in December, and has been enjoying the freedom that comes with home ownership ever since.
She says: "When I was renting it was hard to find a landlord who would let you keep an animal, but of course, I don't have that problem anymore.
"And it's nice to have somewhere I can decorate to my tastes, whereas when I was renting I couldn't even put a screw in the wall without permission.
"I love my flat – I didn't think I'd be able to find somewhere that was so large. There's a great open-plan living area, and the bedroom's really big – friends who have visited have been really impressed."
Subject to status, FirstBuy customers like Vicky require only a 5% deposit and a 75% loan-to-value mortgage to purchase selected properties at Leggatts Green, with Taylor Wimpey and the Homes and Communities Agency (HCA) providing a 20% loan which is repayable at the end of the 25-year mortgage term or when the property is sold.
To be eligible for the scheme, first-time buyers must have a combined household income below £60,000.
FirstBuy is available with a strictly limited selection of one and two-bedroom apartments, priced from just £155,000, plus the three-bedroom 'Fresher III' coach house-style apartment, priced from £235,000.
Alternatively, three and four-bedroom homes start from as little as £235,000 and £310,000, respectively.
Leggatts Green is conveniently located just a short walk from two supermarkets, while only two miles away is Watford town centre, which offers superb shopping as well as a host of bars, clubs and restaurants. The Harlequin shopping centre boasts 130 stores including John Lewis and Marks & Spencer.
For relaxation, one of the country's top hotels, The Grove, offers luxury facilities including a spa and tennis courts as well as a prestigious golf course, while Cassiobury Park is perfect for scenic walks, cycling and picnics, with 190 acres of green space, children's attractions and a wide variety of sports facilities.
Parents will appreciate that there are many schools within close proximity, providing education for children of all ages.
And for commuters, Watford Junction railway station is just under two miles away and offers regular services to London Euston in about 30 minutes, while its West Coast route provides direct trains to Manchester and Glasgow. Also within a one-mile radius are Junction 5 of the M1 and Junction 19 (westbound) of the M25, while Junction 20 (eastbound) is only a two-mile drive.
For further information, visit taylorwimpey.co.uk.