Buy a property of the future at Rowan Homes' open day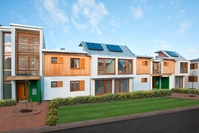 Rowan Homes, which specialises in cutting edge, sustainable new homes, will be offering potential buyers a leg up onto the property ladder at a shared ownership open day at its brand new revolutionary development in Letchworth Garden City.
Its staff will be showing visitors how they can own a property of the future at the progressive Tomorrow's Garden City, a flagship development benefitting from the latest green features and architectural designs. The development, at Hartington Place in Letchworth – the first Garden City, is the result of a prestigious international architectural competition to design the Garden City of the future run in partnership with the Royal Institute of British Architects (RIBA) and Letchworth Garden City Heritage Foundation to celebrate the town's centenary.
Tomorrow's Garden City features a total of 60 properties, including one and two-bedroom apartments and three-bedroom houses.
Anyone who is looking to own their own home, but needs a helping hand, is encouraged to visit the special shared ownership launch event on Saturday 25th February, where experts will be on hand to provide all of the help and advice you need.
Sarah Gower, Sales and Marketing Manager at Rowan Homes, says: "This event will be dedicated to helping potential buyers discover more about shared ownership and if they are eligible for the scheme, as well as giving them the opportunity to take a look around two of our superb show homes.
"A three-bedroom semi-detached house and a two-bedroom penthouse-style apartment have been beautifully designed to demonstrate the fantastic living environments available at Tomorrow's Garden City and the features that make the development so special.
"On the day, members of the Rowan team, local HomeBuy agent Lea Valley Homes and independent financial advisers will be onsite to explain what shared ownership is, how it works and how it could help you take those first tentative steps onto the property ladder."
Designed to perfectly reflect the 21st Century needs of its residents, Tomorrow's Garden City echoes the traditional buildings and open spaces of Letchworth, while also incorporating new technologies and environmental designs. Its unique features include green roofs, inviting open spaces and up-to-date construction methods.
Sustainable, innovative and located in a popular area close to Letchworth's heart, Tomorrow's Garden City is a highly desirable development, which is why Rowan Homes want to ensure everyone has a chance to own one of the available properties.
Sarah adds: "Shared ownership works on a part-buy, part-rent basis, which makes it more affordable and manageable for anyone on a limited budget, allowing those who maybe struggling to get onto the property ladder to take those all-important first steps towards home ownership.
"Rowan Homes is dedicated to supporting first time buyers and by adopting this scheme, we aim to make the buying process more affordable; buyers get to purchase a share of between 25% and 75% of their desired property, while paying rent to Rowan Homes on the remaining share.
"We believe the scheme will be of great benefit to a number of buyers, particularly during the current economic climate, and the mix of properties we have on offer are sure to wow families of every size."
Discover more about shared ownership at Tomorrow's Garden City by visiting the development in Hartington Place, SG6 1FA between 10am and 4pm on Saturday 25th February.
For more information go to tomorrowsgardencity.co.uk.