Cabasse launches custom installation loudspeaker solutions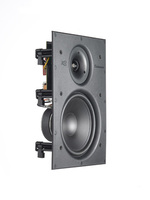 Cabasse, French loudspeaker manufacturer and member of the Canon Group, is introducing a range of in-ceiling and in-wall products designed to set new standards for custom install speakers and bring the benefits of the company's co-axial drive unit technology to install customers.
No fewer than fifteen products are being launched over the coming months to suit all levels of installation at prices ranging from £199. All feature the company's tried and tested co-axial drive unit technology as developed for the flagship La Sphere hi-fi speakers. Co-axial technology is ideally suited to custom installation applications, particularly with in-ceiling speakers where its very wide dispersion characteristics significantly simplify speaker positioning.
The first of the new products are the Archipel range, a five strong line up of in-ceiling and in-wall speakers that have been developed with the same passion that goes into the creation of all Cabasse speakers. The 13ICP and 17ICP models both feature a 24mm soft-dome pivoting tweeter and 13cm or 17cm P2C diaphragm midrange-woofers respectively. A frequency range of 65Hz - 21.5kHz (13ICP) and 48Hz - 21.5kHz (17ICP) make them ideally suited for situations that require discrete full range solutions. Joining the line up of 17cm products is the 17ICPS single unit stereo speaker with its dual voice coil midrange-woofer and twin 24mm soft-dome tweeters mounted on a rotating base.
Completing the line up of the Archipel range are the 13ICD and 17ICD products, which, while sharing the physical dimensions of the 13ICP and 17ICP, are fitted with the higher quality Kaladex semi-rigid dome tweeter and the incredibly light, yet rigid, Duocell membrane midrange-woofers. These materials have been the cornerstones of Cabasse's drive unit technology in popular models like the iO2 hi-fi satellite speakers. All models in the Archipel range are supplied with magnetic fixing grilles in both round and square forms for in-ceiling or in-wall use and come in a paintable white finish.
The popular hi-fi bookshelf loudspeakers, Antigua and Minorca have both been given the custom installation treatment and are now available as in-wall speakers. Behind the ultra-thin magnetic fixing grille, the Antigua In-wall features the new 17T20IW woofer and DOM36 midrange-tweeter. With its high efficiency and high minimum impedance of 6.8 ohms, the Antigua can be easily matched to any amplifier and the simplicity of installation makes it the perfect solution for domestic or professional installs that require stereo or surround effects.
The three way Minorca In-wall is fitted with the familiar 'donut' shaped BC10 co-axial midrange tweeter and 17cm Duocell woofer from its bookshelf sibling. Complying with all of Cabasse's Spatially Coherent System (SCS) technology criteria, the Minorca In-wall portrays a transparency and realism of soundstage that is not usually associated with custom installation speakers.
Sylvain Quainon, UK sales manager, said of the new installation speakers, "Cabasse has a very good reputation for sound quality and technology which has been developed for its very high end loudspeakers. With the Archipel series and the other new models we have successfully trickled down this technology into more compact and affordable products, which will provide custom installers and specifiers with solutions for customers who want high quality sound from near invisible speakers."