Samsung notebook Series 9 and Series 5 ultrabook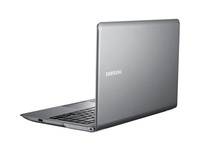 Samsung introduce the second generation of the Samsung Notebook Series 9 and Series 5 ULTRA at the Samsung Europe and CIS Forum in Prague.
Samsung Notebook Series 9
Following the previous model's debut at CES 2011, the new Samsung Notebook Series 9 demonstrates Samsung's advanced innovative craftsmanship in the premium notebook sector.
Customised for consumers striving for high-quality and great design, the new Series 9 boasts the world's thinnest and most compact notebook chassis. Its unique design and innovative engineering pushes beyond current perceptions of premium notebook PCs. Super-slim components have been tailor-designed and engineered to fit into the PCs innovative single shell body.
"The Series 9 represents the ultimate in Samsung design combining precision engineering and premium looks. The new notebook embodies the originality and heritage of its predecessor while eliminating unnecessary factors. The refined aerodynamic design represents the best of Samsung's design with top performance and functionality" said Damian Cusick, General Manager, Computing for Samsung UK.
Key components such as the LCD panel, keyboard, motherboard, cables, fan and battery have been precision-engineered to fit precisely into the Series 9's extra flat single-shell body thanks to more than 33000 hours invested by Samsung designers and engineers to ensure it conserved premium design aspects without compromising performance or functionality.

The Samsung Series 9 features Samsung's MaxScreen technology, which minimizes the bezel while maximizing the screen size by an extra inch. As the world's thinnest and most compact 15" premium notebook, the Samsung Series 9 features a vivid 15" display fitted into a stylish 14" chassis. The truly flat 14.9mm (0.58") thin design weighs just 1.59kg (3.5lbs), making the 15" Series 9 almost 50 percent more compact than any comparable 15" ultra-portable notebooks. The 13" Series 9 measures only 12.9mm (0.5") and weighs just 1.16kg (2.5lbs) — 28 percent smaller than its predecessor.
Samsung Series 5 ULTRA
The Samsung Series 5 ULTRA packs superior performance in an ultra-portable frame.
Available in 13'' and 14'' models, the Series 5 ULTRA is powered by a 2nd generation Intel Core i5 processor, with up to 8GB memory, an ExpressCache system by Diskkeeper and an AMD Radeon HD graphics card. This enables the Series 5 ULTRA to boot-up in just 20 seconds and wake up in only two seconds, while web browsing is twice as fast as the previous generation of notebook PC.
The Series 5's performance is matched by its storage capacity, with the 14'' model delivering up to 1TB of storage capacity and ensuring that users never need to carry additional storage devices with them.

To ensure ease-of-use while on the move, the Series 5 ULTRA 13" is just 14 - 17.6mm thin and 1.38kg light. Its Intel Core i5 processor, 8GB memory, 500GB storage and 16GB iSSD with ExpressCache ensure that mobility and performance are never compromised. Consumers can also choose from a 128GB SSD or 258GB SSD as their preferred storage option. To offer maximum connectivity with other devices, the 13" model also carries a full-size HDMI port along with one USB 3.0, two USB 2.0 ports, and a 4-in-1 multi SD card slot, as well as Ethernet and webcam.
The 14" model is also equipped with an Intel Core i5 processor, up to 8GB memory and 16GB iSSD with ExpressCache system, ensuring exceptional performance. For larger storage and a heightened visual experience, the Series 5 ULTRA 14" includes up to 1TB storage as well as an AMD Radeon HD7550M 1GB graphics card. An integrated Optical Disc Drive is also installed for maximum convenience. In terms of connectivity, the 14" model offers an HDMI conection, VGA, two USB 3.0, one USB 2.0, 4-in-1 multi SD card slot, Ethernet and webcam. These features are all packed into a 20.9mm thin and 1.84kg light chassis.
Both models carry Samsung's superior LCD technology with a 300nit HD LED SuperBright screen, Image Enhancer technology and anti-reflective screens, providing users with a superior viewing experience no matter where they are.