First residents buy at Brook Meadow thanks to FirstBuy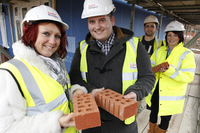 For one young couple, 2012 will be a year to remember as they are due to move out of their parents home for the first time and into their brand new, personalised home thanks to Taylor Wimpey.

Sophia Humphrey and Steven Roberts are the first couple to buy a house at Taylor Wimpey's brand new Brook Meadow development in Trowbridge. As a special treat for purchasing their first home, earlier this week, the developer allowed them to get involved in the building process and the young couple laid the first brick of their new home.

To make this exciting move possible, the couple took advantage of Taylor Wimpey's FirstBuy scheme and they have never looked back since. Sophia explains: "We had been living with our parents and saving up for a while, but we never thought we would be able to move so quickly. We just popped into the development one weekend and the sales consultant told us about the FirstBuy scheme. It sounded fantastic as it meant we could have a bigger house then we originally planned, and have some spare cash left over to furnish our house.

"As we had never bought a house before, we didn't know what to expect, but the sales consultants were so friendly and so knowledgeable that they made everything so easy for us. Nothing was too much trouble. What's more, as we are the first residents on the development, we have been able to pick our favourite plot; we've chosen all the finishes for inside our home and even laid the first brick, so it feels like we've had our property designed especially for us. We are so thrilled with how everything has gone and have been treated so well. We are just enjoying every minute of it now as we may never have an opportunity to do this again.

"If it wasn't for the FirstBuy incentive, there would be no way we could afford to buy a brand new property. The scheme is amazing and I would recommend any first time buyer looking to get their foot on the property ladder to take advantage of the offer. Our parents are so pleased for us, and I can't wait for the summer so we can move into our new home and start our life together."

Taylor Wimpey's FirstBuy scheme works through a joint loan of 20% from the Homes and Communities Agency (HCA) and Taylor Wimpey, which means that eligible purchasers only need put down a 5% deposit and obtain a 75% loan-to-value mortgage. The loan is repayable at the end of the 25 year mortgage term or when the property is sold. To be eligible, purchasers must be first time buyers and the total household earning should be less than £60,000.
Situated in the midst of the rolling hills of Wiltshire, Trowbridge is a delightful market town full of thriving shops, cafes and restaurants and offers some of the finest Georgian buildings in the country.

There are a number of quality primary and secondary schools in Trowbridge and nearby both Bristol and Bath have world class Universities.

For commuters, Trowbridge is in an ideal location with the M4 motorway being just 30 minutes away presenting easy access to both Bath and Bristol city centre. Trowbridge town centre also has a train station on the Wessex line offering routes to Bristol, Bath and London.

First time buyers are being urged to visit the development quick as there are limited FirstBuy funds available. For more information about the properties available at Brook Meadow, visit taylorwimpey.co.uk.