Audi RS 5 is back on top with new generation specification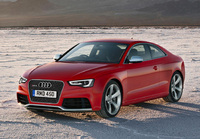 The Audi RS badge returns, reinvigorated, to its rightful place at the head of the A5 Coupé range this week in the new generation RS 5, combining new styling, mechanical and specification revisions with characteristically extreme performance from a high-revving 450PS V8. The more imposing, more efficient and more extensively equipped new incarnation of the acclaimed sports car can be ordered now at an OTR price of £58,725, and will reach its first British customers in April.

Styling updates are not surprisingly the first to make an impact in the new RS 5. They include a slight revision to the single frame grille design, sharper and more pronounced bonnet contours, new 'solid band' wraparound LED daytime running lights and LED rear lights, new look front and rear bumpers and a new '10-spoke' design for the 19-inch alloy wheels.

Inside, the most noticeable enhancements are likely to be the addition of Bluetooth mobile phone preparation, cruise control, DVD-based satellite navigation and Audi Music Interface iPod connection to the standard equipment list for this updated model. The cruise control system can also now be upgraded at extra cost to the adaptive system with braking guard, which uses radar sensors to control distance from traffic in front of the car between 19mph and 155mph, and can also initiate partial braking or full deceleration if its sensors detect an impending collision.

Interior design changes extend to a new flat-bottomed RS three-spoke steering wheel and detail improvements to the air conditioning, Multi Media Interface, mirror adjustment and electric window switchgear, the gear lever and the instrument stalks. New look optional inlays are also now available.

High-revving V8 power

As before, the high-revving, naturally-aspirated 4.2-litre V8 that is hand built for the RS 5 and is closely related to the V10 that powers the R8 sports car delivers 450PS at 8,250 rpm and peak torque of 430 Nm at between 4,000 and 6,000 rpm. It launches the coupé from rest to 62mph in 4.5 seconds, and where possible on to an electronically-limited 155mph top speed, which can be elevated to 174mph if the extra cost speed limit de-restriction option is specified.

A combination of technologies from the Audi modular efficiency platform, including a recuperation system, enables the high-tech V8 to consume significantly less fuel on average than its direct competitors. Combined economy of 26.9mpg and CO2 output of 246g/km are respectively slightly higher, and slightly lower, than before.

New electromechanical power steering which demands no input from the alternator while in the 'straight-ahead' position works in favour of efficiency, as does the familiar seven-speed S tronic dual-clutch transmission with its long top gear, lightning-fast shifts and steering wheel paddle control.

Like all RS models, the RS 5 Coupé applies its power to the road with quattro permanent all-wheel-drive, which in this instance is further enhanced by the crown-gear centre differential that can vary the distribution of torque between the front and rear axles at lightning speed and over a wide range. Up to 70 per cent can flow to the front or as much as 85 percent to the rear, as necessary. The default 40:60 ratio of the rear-biased configuration ensures sporty handling. The electronic stability program (ESP) also integrates a sport mode which ensures that it intervenes at a later stage. It can also be switched off entirely.

Optional sport differential

The crown-gear centre differential works together with the torque vectoring system, which acts on all four wheels. If the load on the inside wheel is reduced too much while the car is being driven at speed, that wheel is braked slightly before it can begin to break traction. A sport differential is also available as an option, and actively distributes the power between the rear wheels via two superposition stages.

Five-link front and self-tracking trapezoidal-link rear suspension with very high lightweight aluminium content offers exceptional supporting foundations for the advanced quattro system, and to further enhance control the new speed-dependent electromechanical steering supports the driver with slight steering corrections when braking on surfaces with different amounts of grip.

Large, internally-ventilated wave brake discs with eight-piston callipers and a 365-millimetre diameter at the front ensure unshakeable stopping power, and in the latest RS 5 they feature revised friction rings which help to reduce weight by three kilograms, improving the balance of unsprung masses in the process.

For especially committed drivers carbon fibre-ceramic brake discs are also available at extra cost, as is the Dynamic Ride Control (DRC) system, which uses diagonally opposed pairs of shock absorbers linked by hydraulic lines and a central valve. During fast cornering, the system intensifies the stabilisation of the front outside wheel for optimum stability and composure. Its response can be varied across three settings at the touch of a button.

A dynamic steering option is also available for integration into the standard Audi drive select adaptive dynamics system, enabling the actual ratio of the steering to be varied according to the four Audi drive select settings comfort, auto, dynamic and individual. When the dynamic steering option isn't specified, the system can apply these same four settings to the steering weighting, along with the S tronic transmission's shift points and the throttle's response. It can also modulate the sound of the exhaust system, double-clutching when downshifting in dynamic mode.

New optional Sport Package

The dynamic ride control and dynamic steering options are available individually or combined as part of a new Sport Package, which also includes larger 20-inch rotor design titanium-look alloy wheels to replace the standard 19-inch examples and a sports exhaust system that further amplifies the bass-heavy growl of the V8. Priced at £2,250, it offers a saving of £2,915 compared with specifying the options individually.