Barratt showhome is perfect location for TV commercial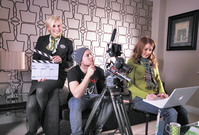 Lights, camera, action! A luxury home at Barratt North East's Greenside development at Newcastle Great Park has landed a starring role on television.
The "Marlowe" showhome is the upmarket setting for a national tv commercial for the Good Garage Scheme, an initiative designed to help people find trustworthy local garages.
The ad was shot by Dene Films, an award-winning film production company based in Newcastle and London. It is due to be screened on Sky TV from March onwards.
Producer Hannah Lucas said: "We shot part of the commercial in one of the scheme's registered garages, Lawlor Motor Company, in Newcastle and for the remainder our actress is meant to be at home searching on her laptop.
"We were looking to use a contemporary, smart home as the location and the Barratt showhome fitted the bill perfectly."
The Good Garage Scheme is a national network of over 2,700 independent workshops and MOT centres. Members carry out more than 67,000 services a month and motorists can visit goodgaragescheme.com to find a trustworthy garage in their area.
Fenton Hewitt, Sales Director at Barratt North East, said: "When we were approached by Dene Films we were delighted to assist. Our showhome has a dramatic interior with a real 'wow' factor and has attracted a lot of interest."
Greenside is the housebuilder's most upmarket development in the region, with luxury homes priced from £330,000 to £545,000.
For further information, visit barratthomes.co.uk.