New Fiat Panda: Italian style, universal appeal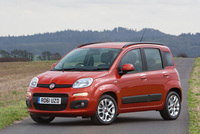 The third generation Fiat Panda, Europe's best-selling supermini, is bigger, roomier, safer and more fuel efficient than its predecessors. On sale from February 2012, it's the latest version of a well loved car that's become legendary for its use of space, compact dimensions, fun style and functionality. With its five doors and flexible interior, the new Fiat Panda is set to build on an enviable reputation for convenience and durability that's been growing ever since the original was unveiled in 1980.

With the continued popularity of downsizing, the concept of an attractive, sophisticated city car with room for five, an advanced range of economical engines and a host of large car features has never been more appealing. The all-new Fiat Panda is such a car thanks to an interior boasting greater flexibility and higher quality materials than its predecessor, with some clever cutting edge technology being made available on a small car for the first time. All this is cloaked in a stylish yet friendly new design and powered by some of the most economical engines available today.

Three engine options will be offered at launch, headed by Fiat's award-winning TwinAir Turbo. This 875cc unit has the lowest carbon dioxide emissions of any quantity production petrol engine in the world, and won International Engine of the Year 2011 courtesy of its unique combination of power, flexibility and economy. With 85hp, 67.3mpg economy (Combined Cycle), and a characterful throaty sound track, this engine has cemented Fiat's position at the forefront of modern combustion engine development.

The TwinAir Turbo is to be joined later in the year by a normally aspirated version for the very first time. There is also the latest evolution of the dependable 1.2-litre FIRE engine. With 69bhp it employs variable valve timing technology to blend power with economy. The new Fiat Panda is also available with a 1.3-litre MultiJet2 turbo diesel. This second generation, compact unit features faster injectors than its predecessor, making it quieter, more economical and cheaper to run.

The TwinAir Turbo and MultiJet will come with Start&Stop and a Gear Shift Indicator (GSI), which suggests to the driver when to change gear in order to achieve the best economy.

As well as new engines, the Fiat Panda has revised dimensions that make it longer, wider and taller than the car it replaces, with more space for passengers and their luggage. But it still maintains sufficiently diminutive exterior dimensions to sit firmly in the city car category. Most of the Panda's growth in length is in the rear overhang to increase the new car's boot space as well as offer more legroom to rear passengers, who will also benefit from a rear sliding seat option for the first time. The new Panda is also 66mm wider, which means it can seat three passengers comfortably in the rear. Most class rivals have room for only two passengers in the back.

For improved passenger comfort and driver enjoyment there is all-new suspension and a body that's significantly more rigid than its predecessor. These attributes further improve the Fiat Panda's already impressive safety credentials. With up to six airbags (four of which are standard), ABS anti-lock braking, optional ESP (Electronic Stability Program), and an active anti-whiplash head restraint system standard equipment throughout the range, the Panda will be one of the best-equipped cars of its kind in safety terms. Unusually for a car of this size, it will also feature a new innovation as an option, the Low Speed Collision Mitigation system. This reads the road ahead and when it detects an obstacle in the car's path it applies the brakes automatically.

The Fiat Panda's helpful features aren't just reserved for the driver. To maximise space inside, the all-new interior is packed with useful equipment. There are 14 storage compartments including an open one on the dashboard. The rear seat bench can be specified to slide backwards and forwards. Other options include a front passenger seat that folds into a table, while access to the interior has been further improved.

As with every other Fiat in the current range, the new Panda can be ordered with the Blue&Me connectivity system to allow owners to sync music players and mobile phones with the car. This enables hands-free control of devices using either voice activation or steering wheel-mounted buttons. The new Fiat Panda also offers the latest Blue&Me TomTom2 LIVE as an option. This navigation device has a 4.3-inch touch screen, and as well as routing, this includes up-to-the-minute weather and traffic information.

The new Fiat Panda is available in three trim levels: Pop, Easy and Lounge. Even the entry level Pop model is well equipped for this city car class, while features such as Low Speed Collision Mitigation, which is available on medium and high grade cars, is new to this segment.