Ducati to celebrate anniversary of Imola 200 victory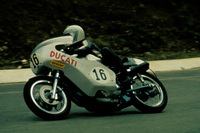 As Ducati starts production of its latest Superbike, the 1199 Panigale, it also prepares to mark the 40th anniversary of Paul Smart's 1972 victory in the Imola 200. The famous race win, and second place by teammate Bruno Spaggiari, literally kick-started Ducati's participation in production-derived racing by proving Engineer Fabio Taglioni's innovative 90° L-twin engine configuration and Desmodromic valve control.

The Imola 200 victory was to be the start of many more international race wins using Taglioni's original design, including Mike Hailwood's win in the 1978 Tourist Trophy with a Ducati 900, the titles won by Tony Rutter and the 600 TT2 Pantah from 1981 to 1983 and the championships won by Virginio Ferrari and Marco Lucchinelli with the 750 F1 in addition to the Battle of the Twins in Daytona in 1986. From 1988 onwards, Ducati's World Superbike supremacy ran throughout the 851, 888, 916, 996, 998, 999, 1098 and 1198 model generations, enabling Ducati to achieve an incredible 17 Manufacturers' and 14 Riders' titles and over 300 World Superbike wins.

Ducati.com now celebrates this important anniversary, retracing the events that led Fabio Taglioni to produce the original race bike design based on the 750GT road machine and its arrival on the starting grid at Imola with Paul Smart and Bruno Spaggiari. Proving to be more than a match for the man who was then considered to be the greatest racer of all time, Giacomo Agostini on his MV, the result not only returned Ducati to the forefront of national attention, previously only enjoyed during the Motogiro d'Italia days of the 1950s, but also to motorcyclists all around the world.

The Italian manufacturer is set to organise a Ducati Vintage Contest and special display dedicated to the historic Imola 200 race and 40 years of success with Ducati L-twin engines at the World Ducati Week (WDW) event, at Misano 21-24 June 2012, with Paul Smart himself in attendance.

For further information about the history of the Imola 200 as well as more details about World Ducati Week 2012, visit the WDW2012 and Heritage sections of Ducati.com.