Park Holidays serves up £59.00 "taster" holidays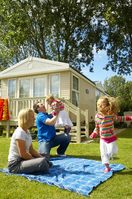 Thousands of £59.00 short breaks in March are being put up for grabs by one of Britain's largest holiday park groups, Park Holidays UK.

The no-catches deals - for three or four nights - cover up to six people staying in a fully equipped caravan holiday home, and include use of the park's leisure facilities.

The offer is especially aimed at those unfamiliar with the concept of a park holiday, and follows reports that even more families will be spending their summer in Britain this year.

Company director Tony Clish says he hopes that the low-cost "taster" break will convince guests to return later in the year for a week-long or fortnight's stay: "This time last year, we were selling these breaks at up to three hundred pounds," he said.

"This year, we have invested in more accommodation across many of our parks, and so are using the extra capacity in early spring to help introduce park holidays to newcomers.

"We hope to open the eyes of people who perhaps hadn't considered a holiday park before, and let them see if the comfort and quality matches their expectations.

"I have absolutely no doubt that we'll be seeing them again in the peak season," added Tony.

The £59.00 short breaks - for either a long weekend or a Monday to Friday stay - are available at most of the group's 25 seaside holiday parks in Devon and southern England.

A family of six on a four-day break will be paying the equivalent of just £2.50 per person per night - or under a fiver each for four people staying three nights.

According to Tony, the offer isn't just a headline grabber and that anybody who wants a £59.00 deal should be able to book one for March if they go on-line over the next few weeks.

"Our bookings in January were well up on the same month last year, so the forecast of an even bigger boom year for UK holidays would appear to be accurate," he said.

"Yet some people perhaps don't realise that they can enjoy more space and even more refinement in a park holiday home than a much more expensive hotel or cottage.

"Now, for the cost of single night in a budget motorway lodge, they can discover why holiday parks are the fastest growing sector of Britain's tourism industry," said Tony.

The £59.00 deals will go live this week at ParkHolidays.co.uk.