Angry Birds to land in Finnish theme park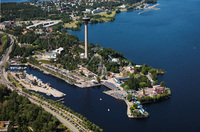 This summer, the world's first Angry Bird themed visitor attraction will open in Tampere, Finland. As part of Särkänniemi Adventure Park, Angry Bird Land will promise an 'interactive entertainment experience' where 'the physical and the virtual world combine' with children and families in mind.
Rovio, the Finnish entertainment media company behind Angry Birds, first released the game as an iPhone app in December 2009. Since then the game has been downloaded 600 million times worldwide gaining national fame with fans including Angelina Jolie, Kylie Minogue and David Cameron. The company has generated £70 million in revenue in just two years and has expanded the Angry Birds franchise with cook books, themed adventure playgrounds, a cartoon on Nickelodeon and merchandise galore.
With aspirations to be a global brand, the theme park attraction is the newest addition to the Angry Bird portfolio with Harri Koponen, Executive Vice President of licensing and merchandising, revealing that Angry Birds Land will be "the first of several Angry Bird parks around the world" with the goal being "to motivate the fans, both adults and children, to exercise and enjoy the outdoors".
Rovio will work with Särkänniemi personnel and BDR Design, an internationally-known amusement park entertainment design company to create the visitor attraction. "We wanted to create a unique themed area and associate it with a strong and well-known brand. The Angry Birds characters were born in Finland but are known worldwide by people of all ages. This is a perfect fit for our Adventure Park" says Miikka Seppälä, CEO of Särkänniemi Adventure Park.
This spring, Särkänniemi will reveal more information about the design of Angry Birds Land, which will include many different elements such as rides and amusement park games. The area will also include "Magic Places", where the physical and the virtual gaming worlds meet.
Särkänniemi Adventure Park's summer season opens on April 28th 2012 and sneak peeks of the construction of Angry Birds Land will be shown during the development phase on Särkänniemi Adventure Park's website and Facebook page. The Park is already home to some great theme park rides as well as an aquarium, a planetarium, a dolphinairum and a children's zoo.
A short distance from the Särkänniemi Adventure Park is Tampere City Centre. The city offers a mix of industrial heritage, slick Finnish sophistication and spectacular scenery including waterways and woodlands. This unique city, often referred to as the 'Manchester of Finland', has an industrious energy and many of the large factories and warehouses have now been converted into unusual galleries and museums such as the Moomin Valley Museum, Vakoilumuseo (Spy Museum) and the Lenin Museum (where Lenin and Stalin allegedly first met).
Ryanair offers flights to Tampere from both London Stansted and Edinburgh operating three times a week with prices starting at £20.99 via ryanair.com. Sokos Hotels has as a number of hotels across Tampere and offers double rooms from £120.00 per night sokoshotels.fi. The centrally located Scandic Tampere City Hotel has double rooms starting from £70.00 per night scandichotels.com.