New for 2015 at the Legoland Windsor Resort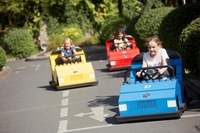 Guests to the Legoland Windsor Resort will see changes to one of the Resort's original and most popular areas in 2015 as the famous Traffic attractions become part of a new, improved Lego City area. The Lego City Driving School is bigger and better than ever with more child-size Fiat cars as well as a new lane on the test course. Boating School also gets a new look featuring more boats and more Lego models, featuring surprising animations and audio affects - making Lego City more Lego-tastic fun than ever when the Resort opens for the 2015 season on 13 March 2015.
Novice motorists (aged 6-13) looking to pass their Lego City Driving School test this year will be briefed in a bright and colourful newly re-vamped training area before taking the wheel of a Lego Brick shaped mini electric powered Fiat car to negotiate the test course. With an increased capacity more drivers can get behind the wheel than ever before and under six year olds can get in training too at L-Drivers. Over at the new look Boating School guests navigate the waters around the busy Legoland Coast Guard HQ. Then it's time to jump aboard a fleet of fire engines to put out a raging fire at the Fire Academy and take a flight on Balloon School.
New Lego FRIENDS themed Hotel Rooms from March 2015
Lego Friends fans are in for a Heartlake City double whammy at the Legoland Windsor Resort in 2015 with ten premium themed rooms opening at the unique Resort Hotel in March 2015... followed by a totally new Lego Friends area on the Resort for early summer. From the bright wall graphics and Lego models, these rooms are pure Heartlake City. Recreated in Lego are some of the Friends' favourite pets - Scarlett the Dog, Felix the Cat and Goldie the Bird plus look out for Lego pony rosettes, butterflies and flowers too. Accommodating two adults and up to three children each room has a separate sleeping area for young Friends and their grown-ups. Children (and adults alike) will delight in solving the special clues hidden in the carpet to unlock the Friends Lego surprise that awaits in the Lego safe. Plus there are interactive games and two TVs - one for the kids and one for the adults, as well as a premium en-suite bathroom with more Lego twists and flourishes.
The new Lego Friends rooms bring a fourth theme to the 150-room hotel joining the existing Kingdom, Pirate and Adventure rooms. Proving a massive hit with guests since it opened in March 2012 the Legoland Windsor Resort Hotel is dedicated to interactive family fun bringing Lego to life with imaginative theming and featuring stunning play spaces, a Lego Pirates themed splash pool and a full programme of family entertainment. Premium Lego Friends room packages are available from £369* in low season including two full days on the park and breakfast at the Bricks Family Restaurant. Call number 0844 844 8099 or check www.legoland.co.uk for full details.
... and a totally new Lego FRIENDS area on the Resort from early summer
The Lego Friends theme continues in early summer when an all new area will open on the Resort giving fans the opportunity to step right into the Heartlake City world of Mia, Andrea, Stephanie, Emma and Olivia - and get to meet them too! Featuring a mix of character meet and greets, a live action music show featuring all five friends, a Heartlake City Mall themed area, and new attractions - the new land is guaranteed to delight and enthral.
PLUS a whole Resort of Lego themed adventure
And with more than 55 rides and attractions there's plenty across the Resort to keep the whole family entertained including Pirate Shores - featuring Castaway Camp and the Pirate Falls Treasure Quest ride - and the splash-tastic DUPLO Valley with Drench Towers and Splash Safari. Plus journey through the oceans on Atlantis Submarine Voyage; submerging guests into an aquatic world of awesome sea creatures in bright yellow submarines - it's a world first. And take to a Viking boat for some water rapid thrills on Vikings' River Splash, soar through the air on the Dragon rollercoaster (or the Dragon's Apprentice for littler ones), or feel the force in the Lego Star Wars™ Miniland Model Display and marvel at some of the world's most famous landscapes in miniature in the Resort's famous Miniland.
*prices correct at time of release
Fact Box
Opening
opens on March 13 2015 until 2 November 2015 (closed on selected midweek days in May, September, October and November)
Book tickets at www.legoland.co.uk/en/Book/
Official photo Legoland Driving Licenses are an additional cost.
Lego themed Legoland Hotel prices/opening
Opens for season on 13 February 2015
Premium Lego Friends packages from £369 (low season), themed family (2 adults/ up to 3 children) rooms available from £289 low season.
Hotel price includes breakfast and Park tickets for two days plus early bird access to selected rides in the Park (special rates available for Legoland Annual Pass Holders and Merlin Annual Pass Holders)
Book at: legoland.co.uk/hotel/shortbreak/