Kia smashes the 1 million visits barrier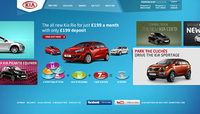 Kia has surpassed more than 1 million visits to kia.co.uk in February alone, a record breaking number since the website was re-launched in 2009.

The website features latest information on new models, dealership details and offers for customers. The increase in visits to the site reflects the growing interest in the brand and reflects the increased research that many consumers will partake before buying a new car.

With recent TV advertisements and sponsorship of the ITV programme Take Me Out as well as new model launches the increase in visits to Kia.co.uk has seen the highest numbers on record surpassing the previous highest by 150,000 visits, up by 90 per cent compared to February last year.

'Surpassing the 1 million visits mark is a great achievement and underlines the growth in the brand and reflects the changing habits of the UK car-buying consumer conducting more research online. What is especially pleasing is the flow of traffic to our dealer websites and brochure requests are also on the rise.' John Bache, Digital Marketing Manager, Kia Motors (UK) Ltd.