Camping with a conscience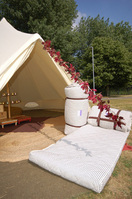 Camping With Soul has teamed up with the planet–friendly Naturalmat company, to produce the ultimate, ecologically sound Naturalmat camping mattresses. Each mattress is lovingly hand-made in Britain using denim from recycled jeans and organic lambswool, all covered in a beautiful, washable, 100% natural cotton ticking.
Not only are they wonderfully comfortable but they also have a minute carbon footprint and can be used all year round. The mats are ideal for luxurious camping, as super sumptuous bed toppers at home, or as an extra roll up bed for unexpected house guests (who might end up staying the night after a party). The mattress covers are 100% cotton, fully removable and washable, ensuring that your mattress keeps its natural, good looks.
How They're Made:
What makes the Camping With Soul Naturalmat unique is that it was designed using the same knowledge and techniques used to create traditional bedroom mattresses. With its recycled denim core, organic lambswool tufting surrounded by 100% natural cotton, the Naturalmat gives great support and insulation from the ground, making for a peaceful night's sleep.
Eco Info:
Hand made in Devon, the Naturalmats have a core of shredded, recycled denim to create a comfy level of padded support. This is then surrounded by organic lambswool sourced from Soil Association certified organic farms in the West Country and processed in Devon. The wool is washed clean on the edge of Dartmoor using water from the River Dart which is then filtered and returned to the river with no environmental impact. In the final wash anti-bug treatment is added to the lambswool (a solution derived from essential oils of lemon, eucalyptus and lavender) ensuring it is anti-dust mite, anti-moth AND mosquito repellent. The camping mat is then covered in a traditional, blue and white striped, quilted cotton ticking that has also been treated with a natural geraniol to make it anti-bed bug.
Clever Design:
The chocolate brown webbing straps, attached to the mat with Velcro tabs, make it easy to roll up and provide a practical handle to carry it around. The Naturalmats also have a hidden Velcro strip along one side enabling two single mattresses to be stuck together making a king-size double. There is even a covering piece to protect the Velcro from gathering unwanted pieces of fluff when the single mattress has no partner to stick to!
Naturalmats come in two sizes:
Adult 80x190cm - £159 for one, or £299 or two (to make your king-size double bed)
Child 70x140cm - £99 (up to 11 years)
For more information on the NaturalMat or other Camping With Soul Products see CampingWithSoul.co.uk or visit BellTent.co.uk.