Carry on camping: 4.5 million Brits took their first camping holiday during the pandemic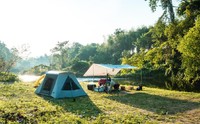 From s'mores to sleeping bags, COVID-19 has boosted Britain's love affair with holidaying in the great outdoors, as new Mintel research reveals more than 4 million Brits went camping and caravanning for the first time during the pandemic.
According to Mintel, over one in five adults (22%) has been camping since the start of COVID-19. This includes 38% of this group who are 'newcomers'—those who took their first-ever camping or caravanning holiday during the pandemic—amounting to roughly 4.5 million 'newcomers' .
Overall, total spending on camping and caravanning trips in Great Britain reached an estimated £2.7 billion in 2021, up 77% on 2020 when Brits spent £1.5 billion.
But it's not just humans who are enjoying the joys of camping and caravanning as today's British campers are actively seeking holidays for their four-legged friends. Twenty-seventy percent of Brits are more likely to choose a pet-friendly camping/caravan site, rising to 34% of couples aged under 45 without children.
John Worthington, Senior Travel Analyst, Mintel, said: "The rising cost-of-living crisis has the potential to dampen consumer spending on all holiday types. Camping and caravanning, however, hold the advantage of being seen as an affordable holiday, which may help to insulate the sector. Our research shows that 'low cost' is seen as the leading attraction for consumers. The ability of the sector to not only withstand, but even benefit from, a negative economic climate was shown during the 2009 recession, which saw a 21% rise in the volume of domestic camping and caravanning. The market benefited as consumers traded more expensive trips abroad for budget staycations.
"A new wave of corporate activity in UK holiday parks reflects optimism that the staycation trend is here to stay, and will lead to further investment in accommodation and family-focused experiences. Camping and caravanning abroad will benefit from the rise in consumer interest in active outdoor holidays and campervan touring adventures away from the crowds, once confidence in overseas travel returns."
Good morning posh campers
Mintel research shows that COVID-19 has brought an influx of affluent families into camping and caravanning. Almost four in ten (37%) 'COVID campers' have a household income above £50,000, compared with just 21% of those who camped/caravanned pre-pandemic.
While only one in twenty (6%) have glamped in the past 3 years, Mintel research reveals significant pent up demand for posh camping, as almost four in ten (39%) of campers and caravanners would pay extra to stay in a luxury caravan or lodge. A further 27% would pay extra to go on a glamping tent holiday (eg pre-erected larger tents with beds, living and kitchen/dining areas), while 27% would pay extra to stay in unusual 'glamping' accommodation (eg a treehouse, gypsy caravan).
John Worthington, Senior Travel Analyst, Mintel, said: "COVID-19 has introduced more affluent families into the camping and caravanning market. Many of these customers are likely to have substituted planned holidays abroad for staycations.
"A key opportunity for the domestic holiday sector will be to retain these new customers once recovery in overseas travel gathers pace. Mintel research suggests that the sector still faces the challenge of countering negative 'downmarket' consumer perceptions. In the long term, further investment and premiumisation will help to make camping and caravanning more attractive to a wide range of consumers, including more affluent demographics who have tried camping as a result of COVID-19 restrictions. In the short-term, the cost of living crisis might bring in those with tighter household budgets who are cutting back on more expensive holidays, including a potential trip abroad."