The best National Trust holidays for 2016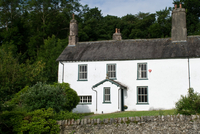 Whatever's on your holiday wish-list for 2016 the National Trust has a whole host of inspiring ideas.
From cottages crammed with character to bargain bothies and feel-good volunteering breaks, there really is something for everyone.
So whether you fancy lording it up in a stately manor with friends and family, or simply want to get back to basics and at one with nature, every break is enticing and every single one helps the National Trust continue to look after special places for ever, for everyone.
Here's a snapshot of some of the great getaways on offer in 2016 and for more ideas visit nationaltrustholidays.org.uk
National Trust holiday cottages
The National Trust has over 400 holiday cottages each with a story to tell. Highlights include Godolphin House – one for Poldark fans this six-bedroomed Cornish manor was owned by a tin mining family and is furnished with plundered goods. Literary lovers will enjoy Monk's House Garden Studio, a tiny one roomed studio in the garden of Virginia Woolf's country retreat. While fans of Capability Brown (the landscape architect who celebrates his 300th anniversary in 2016) shouldn't miss the Triumphal Arch, a Henry Holland designed folly overlooking Berrington's parkland.
Here are five of the newest additions:
The Malt House, Cotehele, Cornwall
Malt House sits above Cotehele Quay with amazing views over the River Tamar and is about 10 miles from Plymouth. The main garden for the cottage is at the top of one of the historic limekilns and provides an exclusive balcony looking out over the river. There is also a small tower, which offers a quiet spot to relax and take in the river views. As a guest of Malt House, you can enjoy out-of-hours access to the estate and gardens at Cotehele, perfect for a large-scale game of hide and seek after the visitors have left.
Sleeps six / 2 dogs allowed
Three nights from £612
Greenlands, Studland, Dorset
Greenlands is a newly renovated farmhouse on the edge of Poole Harbour, which was built in the 1940s for an Army Major. The cottage boasts views over the harbour across to Brownsea Island (a haven for wildlife, including the rare red squirrel) and inland over the Dorset Heathland. It's in the perfect spot for exploring and guests can access the water's edge from the garden. Nearby you can visit Studland beach, a four mile stretch of golden sands, rolling dunes and walking trails, cycle to Corfe Castle or catch the ferry to Bournemouth.
Sleeps five / 2 dogs allowed
Two nights from £371
Itteringham Manor, Aylsham, Norfolk
This cottage forms part of a grand Georgian Manor House, built in 1707, which is shared with another holiday apartment Barn Owl Loft (which sleeps two). The cottage is full of character and perfect for those looking for a simplistic getaway – to preserve the building, the cottage has undergone just basic modernisation. The cottage also benefits from a large walled garden to the front and back of the house. The local village pub and shop are within walking distance of the cottage. You're halfway between the city of Norwich and the coast with its cliffs, sandy beaches and marshland bird reserves.
Sleeps eight / 2 dogs allowed
Three nights from £368
Rockside Cottage, Alnwick, Northumberland
Formerly a fisherman's cottage, with views of the sea and the beautiful Embleton Bay, Rockside Cottage is nestled in Low Newton-by-the-Sea's square, which is also home to the famous Ship Inn and micro-brewery (which is said to have been here since the 1700s). The cottage is just a two-minute walk to the sandy, sheltered beach with rock pools and rocky outcrops.
Sleeps four
Three nights from £345
Holeslack Farmhourse, Kendal, Cumbria
Holeslack is on the Sizergh estate and dates back 400 years. It is a lovely spacious farmhouse once possibly used as the dowager house for the estate. It has views over the estates farmland and in the evening deer walk through the surrounding woods and in to the garden. There are several good pubs to eat at nearby including the estates own Strictland Arms. Kendal is just 10 mins away.
Sleeps 8.
Two nights from £286
Working Holidays
For the sun-lounger averse, or those who just want fun, adventure and something a bit different, National Trust working holidays provide the unique opportunity to get outdoors, develop new skills and play a part in looking after the nation's special places. Popular holidays include volunteering on a fell farm during lambing season and 'bike and build' in Yorkshire.
Here's a snapshot of the volunteering holidays on offer in 2016:
April 16-23rd - Fell Farm Experience - Join in working at Wasdale Head fell farm, and receive a basic introduction to life on the farm at this special time of year, lambing season. Tasks will be varied, including traditional Lakeland tasks such as dry stone walling (as well as where possible, working with the Herdwick sheep). £155 per person.
6-11 and 13-18 March and 2-7 October, 30 October - 4 November Real Island Adventure – Help out on a range of tasks on Brownsea Island in Dorset, home to scouting, red squirrels and a designated site of special scientific interest. Learn about the history and this unique natural environment. £165 per person.
May 23rd -27th – Whittling, woodcraft and wild camping – Learn about traditional woodland crafts, making charcoal, building chestnut fencing and much more. With the opportunity to camp out in the wilds of Leith Hill, Surrey for one night, this is a great holiday to escape from everyday life and engage with nature. £115 per person.
July 2-6th - Bike and Build – Bring your mountain bike and plenty of energy to work in the magnificent landscape passed through during the 2015 Tour of Britain and 2014 Tour de France. Work will include surfacing footpaths and making fences in Upper Wharfedale, North Yorkshire. £115 per person.
And one for all the family……
29th March – 1st April - Sow and Grow – bring the whole family to Stackpole estate, Pembrokeshire and help create a 'grow your own garden' for visiting school groups. Tasks will involve weeding, clearing and creating a wonderful space to teach others about the value of a 'grow your own garden' hopefully inspiring them to create one at their own school. £125 per person
Bunkhouses and Bothies
For a group getaway in a great location, why not take a look at the National Trust's bunkhouses. There are over thirty to choose from in beautiful coast and countryside locations, sleeping between ten and forty people in simple comfort, with no-frills kitchens, lounges and heating. The National Trust also has bothies, which offer very basic accommodation - often in isolated spots; these are the perfect escape for those wanting to get away from the trappings of modern life. Pack as if you are camping but no need to bring the tent!
Beach Head Bunkhouse, Park Head, nr Wadebridge, Cornwall
This converted barn is situated in a peaceful location just 1.5 miles from the beach at Porth Cothan, close to the iconic Bedruthan Steps and has spectacular views of the coastline. The ideal base for an active break as the area offers excellent surfing and walking.
Sleeps 14
From £320 for two nights
Golden Cap Bunkhouse, nr Charmouth, West Dorset
This basic accommodation is in a tranquil and scenic location. Situated in an elevated position on Stonebarrow Hill with magnificent views overlooking Lyme Bay and across to Golden Cap and Chesil Beach. It offers excellent access to a network of walking trails.
Sleeps eight
From £160 for two nights
Hendre Isaf Bunkhouse, nr Betws-y-Coed, Snowdonia
Located in the Snowdonia National Park this 400 year old converted farm building is in a peaceful location on the National Trust's Ysbyty Estate but only six miles from Betws y Coed. The area offers excellent hiking and mountain biking.
Sleeps 18
From £495 for two nights
Peppercombe Bothy, Devon
Peppercombe Bothy offers extremely basic accommodation in a gated wooded valley with views across Bideford Bay towards Lundy. There's no dressing it up, the bothy is effectively a stone tent. It is the ideal spot to stop for a night or two if walking the South West Coast Path which passes through the valley, just 200 metres away.
Sleeps four
From £20 for one night
Holme Wood Bothy, Loweswater, Cumbria
For a really serious outdoor experience, Holme Wood Bothy offers extremely basic accommodation in the most spectacular secluded location just a few metres away from the shore of Loweswater. Be assured that your only neighbours will be friendly woodland animals and hooting owls. The stone bothy was converted from a fish hatchery hut and provides an ideal base from which small groups can walk and fish.
Can accommodate up to ten people
From £150 for three nights / £100 for two nights
National Trust glamping
Ditch the tent pegs and enjoy a snug night's sleep under a starry canopy in comfort with the National Trust. Camping pods, Mongolian yurts and pitches in spectacular locations are just some of the ways you can enjoy a unique and stress-free camping trip with friends and family.
Wasdale, Lake District
Wasdale is a remote farming hamlet surrounded by spectacular fells and dramatic wilderness. The fells have been an inspiration for mountaineers, climbers and poets for decades and remain a magnificent setting for an outdoor adventure. Spend the night in a camping pod that's simple and spacious or a tipi with a brilliant wood-burner for a toasty evening. Wasdale campsite sits at the head of Wastwater, which has been voted Britain's favourite view. Set in the quieter West Lakes, it is a great spot for walking, England's highest fells or just enjoying complete tranquillity. Pull on your boots and head up nearby Scafell Pike, or venture out onto Wastwater with West Lakes Adventure in a hired canoe. Wasdale Head Inn is a short walk from the campsite for a tasty bite to eat.
Price: Tent pitch: From £17 for two nights, Camping pod: From £70 for two nights, Nordic Tipis: from £100 for two nights (2 adults and 2 children).
For more information please call 01539 432733 ntlakesholidays.org.uk
Crom, County Fermanagh
New this year, for those who want to enjoy a little more luxury, are two new 'glamping' pods at Crom. The pods look out over Lough Erne and are a stone's throw from the water – the perfect spot to relax and watch the sun set. They are located right beside the visitor centre and close to the campsite facilities, which include a shower block and an outdoor tap for washing dishes. In the past, they were used to house pigs, but they've certainly had an upgrade since then. The pods have enough space to fit from two adults to a family of five with two single beds and plenty of floor space. They are well equipped with home comforts to make your stay that bit easier, with a microwave, kettle, heater and electric points to charge those smartphones and hairdryers.
Price: £45 per night, available from March to October
For more information, please call 028 6773 8118
Gibside, Tyne and Wear, North East
Sleep under the stars in a cosy Mongolian yurt at Cut Thorn Farm. West Wood yurt village provides the perfect combination of back to nature living, without compromising on all the usual luxuries you could wish for on holiday, it even includes solar-powered phone chargers. With comfortable futon style beds, cosy wood burning stoves and solar lighting, this really is luxury camping at its best. Yurt glampers have exclusive access to Gibside's parkland and adventure playground after day visitors go home. A large yurt sleeps six, a small sleeps four.
Price: From £115 for two nights
For more information, please call 07823 334910
Castle Ward, Northern Ireland
Tucked away on Strangford Avenue in the stunning 820-acre Demesne at Castle Ward, these camping pods offer a chance to reconnect with nature. Explore the many trails that wind their way through atmospheric woodland, gardens and parklands, plus there's plenty of space for cycling. If you're feeling adventurous, the nearby Clearsky Adventure Centre offers archery lessons, bike hire, laser clay pigeon shooting and kayaking on Strangford Lough and with an eighteenth century mansion on your doorstep it's the perfect place to spend the weekend. A standard pod sleeps 2 adults and up to one child, and a family pod sleeps 2 adults and three children.
Price: Standard Pod: £38 per night, Family Pod: £48 per night
For more information, please call 028 4488 1204
Clumber Park, Nottinghamshire
Set in a peaceful woodland park, the three Clumber wigwams and three camping pods are a great way for families to get back to nature and outdoor living. Both the pods and wigwams have heating, lighting and electricity and will keep the whole family warm and cosy on a glamping adventure at Clumber Park. The pods sleep up to 4 and are carpeted so bring your bedding as if you were camping. The wigwams, sleep up to 5 and are sturdy woven camping cabins complete with bed structures.
Prices: Tent pitch: From £13 per night, Camping Pod: from £39 per night Mon-Thurs, from £60 per night Fri - Sun. Wigwam: from £51 per night Mon-Thurs, from £84 per night Fri – Sun. For further details about the campsite please call 01909 506581.
Nearby, Clumber Park Bunkhouse is a converted gardener's cottage situated next to the Walled Kitchen Garden. There are four interconnecting bedrooms that sleep up to 12, providing simple and comfortable accommodation. Bunkhouse: Sunday – Wednesday £120 per night, Thursday – Saturday £150 per night, minimum 2 night stay
For more information, please call 01909 476592.
Low Wray, Lake District (opens 18 March)
Located on the west shore of Windermere, Low Wray is a tranquil rural retreat for the whole family. Convenient for exploring the Lake District you can head into the hills for a walk or spend an afternoon on one of the many activities for kids in the surrounding area. Hire bikes and canoes or a bat detector kit, or visit nearby Hill Top, Beatrix Potter's 17th century Farmhouse which will be celebrating her 150th anniversary. Alternatively, cycle to Allan Bank along newly opened bike routes.
With a pioneering range of glamping opportunities; choose from Berber tents, campervan spaces or Camping Pods that are all sure to give you a cosy night's sleep under the stars.
Price: Standard Pods: 3 available, (2 adults and 1 child) prices start from £70 for two nights
Family pods: 7 available (2 adults and 3 children) prices start from £80 for two nights
Berber tents: 2 available, either from Monday to Thursday or Friday to Monday, prices start from £250, 7 nights starting Monday or Friday, and prices from £400
For more information, visit ntlakesholidays.org.uk