Ex-rally man opens new MG dealership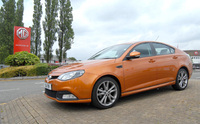 A former international rally co-driver is opening a new MG dealership in Derby.

Beechwood MG will become the third new MG dealership to open in 2012 as the brand forges ahead. It will officially open when a VIP charity casino night is held at the Siddals Road showroom on March 29.

Rob Wood, Beechwood's Managing Director, was a leading amateur rally co-driver. He's competed in several Lombard RAC and Network Q Rallies in the UK. Beechwood have also competed at an international level in ice rally events in Sweden.

He said: "I'm hugely excited to be representing MG. The brand has a great background in motor sport and it's fantastic to see MG going back into track racing with the BTCC.

"I have been very impressed with the MG6. You can feel the sporting pedigree in the way the car drives. It's got great driving dynamics while being totally civilised on motorway driving and it offers amazing value for money. I think it's a winner."

Beechwood was founded by Rob's father Mike Wood, another rally enthusiast, more than 40 years ago. The dealership has built up a strong reputation and the showroom, on a one acre site in Siddals Road, is just 150 yards from Derby city centre.

The new dealership will launch with the MG6 GT fastback and MG6 Magnette sports saloons on show supported by factory trained technicians and the latest MG GDS diagnostic equipment.

Beechwood MG has a staff of 15 headed by Rob. He added: "Everyone here is really enthusiastic about being part of the new MG story. We're really proud to be representing MG."

Rob is a also a keen cricketer and MG will sponsor the Beechwood MG Derbyshire Premier Cricket League, one of the leading amateur leagues recognised by the English Cricket Board.

Both MG6 GT fastback and MG6 Magnette sports saloons will be available from Beechwood with some great launch offers that include low deposit and low monthly payment finance options.

The cars are designed and engineered at MG Motor UK's Birmingham factory where final assembly of the UK models also takes place.

The MG6 recently won the What Car? 2012 Security Award. Two racing versions of the MG6 GT will compete in the 2012 Dunlop MSA British Touring Car Championship with double champion Jason Plato and rising race star Andy Neate behind the wheels.