Taylor Wimpey offers NewBuy scheme in Chichester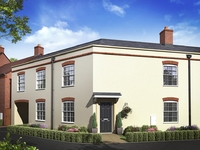 NewBuy, the widely anticipated government and housebuilder-backed scheme aimed at increasing the availability of low deposit mortgages, is now being offered by Taylor Wimpey on homes in Chichester.
The initiative, available on brand new properties up to the value of £500,000, means that credit-worthy first time buyers may now only need to save a 5% deposit before they can get on the property ladder. Home movers with limited equity in their existing house will also benefit from the increase in availability of 95% loan to value mortgages.
Sarah Pasco, regional sales and marketing director, comments: "We welcome the NewBuy scheme as we believe it will go a long way in helping a wide range of buyers who have had to put their dreams of getting on or moving up the property ladder on hold due to the size of deposits required by mortgage lenders.
"We are offering the scheme on all our developments across the region including Lion Park in Chichester where we have a range of one, two, three and four bedroom houses. With prices starting from £182,000, buyers would only need a deposit of £9,100 under the NewBuy scheme."
For more information, visit taylorwimpey.co.uk.