Albanian trekking trips selling on Olympic scale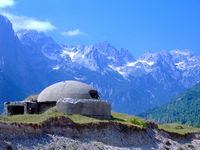 Walks Worldwide has added two further departure dates for its 'The Accursed Mountains' trek to Albania following exceptional demand. One of the extra dates is at the time of the London Olympics for those who would rather challenge themselves physically than watch other people do it.
The trekking is graded as 'demanding', walking between four and eight hours a day at altitudes of up to 2000m.

Comments Mark Knowles, the man responsible for researching and creating Walks Worldwide's treks: "Albania is our real big surprise this year. But serious trekkers do their research and realise what a great adventure such a trip can provide; the Accursed Mountains are spectacular, unspoiled and virtually impenetrable. What's more, even in the height of summer, you are unlikely to come across another soul.
"This remote area of Europe can easily be compared with more far-flung and exotic destinations, including the lesser-trekked regions of the Himalaya. We have also just put together one of our special 'reccy' trips for September 2012, to explore the 'Mysterious South' of Albania for the first time. This will be unique to Walks Worldwide and great for those who have completed the Accursed Mountains trek and fancy another Albanian adventure with us."
The new dates for Walks Worldwide's The Accursed Mountains small group trips (max. 10 people) are 30 June and 15 September 2012.
The 8-day itinerary costs from £565 pp which includes 7 nights' accommodation, most meals, local guide, overland travel and baggage transfers whilst walking.

For more information, visit walksworldwide.com.

Flights with BA to Tirana cost from approximately £250. Walks Worldwide is a fully-bonded, financially protected tour operator and can book them on request.