Gogobot iPhone travel app helps plan the perfect trip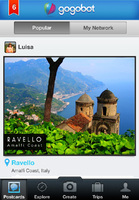 Gogobot, the world's most popular source of trusted travel advice, has released its first major upgrade of its iPhone app, adding features that allow users to plan entire trips to one of more than 60,000 travel destinations on the move, based on recommendations from friends and people like you. Named one of Time Magazine's 50 Best Websites of 2011, the social travel service delivers a mobile tool loaded with photos, personalised practical information, and a fun, easy way to benefit from the experiences of thousands of others wherever you are.
"People want to be able to plan their travels and share their experiences on the go, across multiple platforms," says Gogobot CEO and founder Travis Katz. "The Gogobot app helps them do that quickly, easily, wherever they may be. Whether planning a trip, sharing memories with friends, or just dreaming about places to visit, Gogobot demonstrates just how much mobile devices are replacing computers for everyday tasks in peoples' lives."
Home to the largest source of travel advice from people like you – not strangers or anonymous reviewers – Gogobot's entirely enhanced app packs more of the kind of features that helped land several awards, including a Crunchie. Anyone with a hunger for travel can explore their destination of choice, browsing reviews and photos of hotels, restaurants, and attractions, which Gogobot sorts automatically based on their popularity in your personal network. As they browse, users can grab the best options and quickly change them into a personal trip plan, giving people instant access to maps and directions, phone numbers, hours of operation and other vital information. With a tap of the screen, a user can call to make a reservation or get directions from where they are standing to any place in their trip plan.
When not traveling, the Gogobot app lets users leaf through friends' and other members' holiday snaps, which Gogobot turns into postcards to help inspire the perfect travel choices.
One of the most popular Gogobot features – the ability to turn photos into digital postcards – also gets an upgrade as users gain access to two new vivid postcard styles, which can be shared via Facebook, Twitter, SMS or email. The updated app also allows users to add places and write reviews to their Gogobot passport, deepening the well of user-created travel tips.
For more information, visit gogobot.com.