Merchants Quay is dream come true for first resident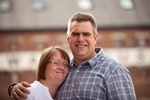 Moving into an apartment at Crest Nicholson's Merchants Quay development in Gloucester has made a dream come true for first residents, Lisa and Kevin Sykes.
Originally from North Devon, Lisa and Kevin had been living in Cinderford, but had longed to move to a home near the water again. Desperate to buy a new build property, Lisa and Kevin considered all the new developments which became available in the West Country but it was Merchants Quay which stole her heart. Having spent a year searching for the perfect home it only took the duration of one long weekend for Lisa to find, research and purchase off-plan her first home with husband Kevin.
"We knew we wanted to live in a new build again as we didn't want to do any work and we like the fact that everything is brand new", said Lisa. "I'd always loved being near the water in Devon and was feeling really homesick for it. When we spotted the advert for Merchants Quay we just knew it was the one for us and when we saw the plans we just had to buy it right there and then. We've never done anything so fantastic in all our life!"
Buying off-plan meant Lisa and Kevin could choose from a range of fixtures and fittings and select the apartment which suited their needs best. "An en-suite was an absolute must. I've never had one before and I'd decided that the next time I moved it would definitely be top of my list. We also needed two bedrooms, as my step-daughter often comes to stay."
Now, Lisa and Kevin have become the first residents to move into the development and they couldn't be more pleased with their new Top Mast two bedroom duplex apartment. Lisa explained: "We fell in love with the apartment immediately. We have beautiful views of the canal from two sides and everything about the place is finished to the highest standard. We also really love the community feel there is here. Everyone you meet down at the docks is so kind and friendly and has their story to tell.
"Buying off-plan at Merchants Quay has given us our dream home and we can't thank the girls in the sales office enough. I was down here practically every week during the build and they were always happy to help and answer my questions. I can't believe how lucky I am."
Tim Ridges, Sales Manager at Crest Nicholson South West, commented: "We're delighted that Lisa and Kevin are so pleased with their new apartment and want to wish them a really warm welcome as our first residents. Merchants Quay is proving really popular with homebuyers and investors alike and we've already sold over 80 per cent of the homes on offer, so we'd urge anybody looking to move to visit the development soon before our remaining properties are snapped-up."
Current availability at Merchants Quay starts from £108,500 for the one bedroom Stern apartment. For more information, visit the on-site Sales and Marketing Suite, which is open daily 10am-5pm.

For more information, visit crestnicholson.com.