Discover Dominica's capital with Creole architecture walking tour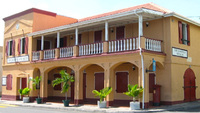 A new walking tour invites visitors to Dominica to discover its rich architectural heritage. Roseau, the capital of the island, is home to one of the best-preserved collections of 18th century Creole architecture in the Caribbean.
The centre of Roseau is better appreciated on foot, as it boasts some beautiful samples of authentic urban vernacular (traditional residential architecture), which have survived despite numerous hurricanes and fires.
Around Roseau and throughout the island you will also discover many small wood-framed houses, known locally as 'Ti kaz', while the colourful mercantile buildings describe the history of the capital as colonial trade increased within the region.
The 'Historic Roseau Walking Tour' also encourages a visit to the dwellings of Dominica's Kalinago Indians: these hut-like structures are built of palm leaves, reeds and local materials giving visitors a historical insight to the way Dominica's indigenous population used to live on the island.
The new walking tour is developed by Dominica's Society for Heritage Architecture Preservation and Enhancement (SHAPE) to help visitors explore Roseau's rich architectural heritage through a 16-page leaflet with a three-panel fold-out map (costing £3 and available at the Dominica Hotel & Tourism Association office in Roseau). A 30-minute tour podcast can also be downloaded.
The self-guided walk takes an hour and a half for a quick loop and over two hours for a more in-depth tour. Extra time should be allowed to investigate the artisans and craft shops that are also listed.
The 'Historic Roseau Walking Tour' is the latest tour introduced in Dominica's capital, as Hibiscus Ecotours launched a new train city tour earlier this year.
The yellow train can hold 34 passengers and passes through the bustling streets of Roseau, taking in key attractions (such as the historical Roseau Cathedral, the beautiful Botanical Gardens and the hillside suburb of Goodwill) and stopping for a relaxing drink at the Waterfront Bar. Featuring local guides, the 90-minute tour begins and ends at the Dame Eugenia Charles Boulevard, right at Roseau's Bayfront.
At the moment the tour is only available to cruise ship visitors, however plans are underway to also offer it to independent travellers soon.
Dominica (pronounced Dom-in-ee-ka) is a spectacular green island of rugged mountains, lush rainforests and rushing rivers in the Eastern Caribbean, lying south of Guadeloupe and north of Martinique.
For more information on the new walking tour and to download the podcast please visit shape.dm/walkingtour.cfm. For more information on the new train tour email info[at]hibiscusvalley.com.
For more information on the island of Dominica visit discoverdominica.com.