Rome: Six private concerts and a visit to the Sistine Chapel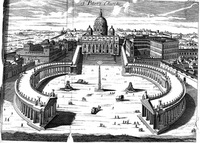 Martin Randall Travel's Festival of Music in Rome (4–9 November 2012) restores music to some of the greatest palaces and churches in Rome with a brilliance and authenticity that is unprecedented in modern times.
Six private performances of Roman music, with some of the world's leading specialists in the genre - including the Gabrieli Consort & Players, La Venexiana, Accademia Bizantina and Modo Antiquo - provide an experience of exceptional aesthetic richness.
This Festival includes an exclusive visit to the Sistine Chapel to see Michelangelo's Last Judgement and Raphael's Stanze. Usually seen in the company of hundreds, this is an out-of-hours visit, accompanied by a team of specialist lecturers.
This team of art historians are leaders in their field: Dr Helen Langdon, Christopher Newall, Dr Roberto Cobianchi, Dr Michael Douglas-Scott and Angus Haldane lead optional walks during the 6-day festival, whilst Professor of Music at the University of Huddersfield and BBC Radio 3's early music expert John Bryan gives talks on the music.
The price starts at £2,630 per person, which includes six private concerts, carefully-selected hotel accommodation in Rome, return flights between London and Rome Fiumicino, coach transfers to and from Rome airport, three dinners with drinks and the guided walks and lectures.
For more information, visit martinrandall.co.uk.