Hiking in the Italian Alps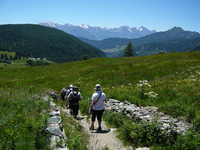 To make the most of High Summer in Europe join Hedonistic Hiking's June walking holiday in the Italian Alps, taking in the beautiful Aosta Valley and the Gran Paradiso National Park.
The hiking takes you through flower-filled alpine meadows and offers spectacular views of Mont Blanc and the snow-capped peaks of the Italian Alps. Visits to ancient castles and following the routes of Roman armies, medieval pilgrims and Napoleon Bonaparte help to bring the history of this unique part of Italy to life.
Aosta might be the smallest region of Italy, but it is very well known for its high quality cheese and wine production. There are strong cultural and culinary links with France and the influences in the cooking and the language are clear to see.
The guided walks each day range from 3.8 miles to 6.8 miles, with a good mix of ascents and descents. Jackie, MD of the company, explains: "The Val d'Aosta is a mountainous region and on several days we hike at an altitude of 2000 metres or more. Nevertheless, it is mountain walking and not climbing. Where possible, we make use of chairlifts and cable cars to take us to the best areas for walking."
Accommodation for this tour is based in two luxurious hotels - one in the historic town of Bard and the other in Cogne, the gateway to the Gran Paradiso National Park. Both are filled with character, have excellent restaurants and full spa facilities. The tour starts and end in Turin.
Jackie and Mick Parsons own and operate Hedonistic Hiking, a company specialising in fully-guided gourmet walking tours in Australia and Italy. They are passionate about the food, the wine and the walking of both countries.
The tour runs from 23rd - 30th June 2012, is priced at €2385 per person based on two sharing and is fully inclusive. For booking and full tour details visit hedonistichiking.com.