Ever changing hair colour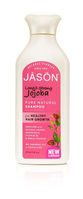 Keeping up with the latest their trends and colours isn't always easy, celebrities such as Whitney port, Jessica Biel and Drew Barrymore are just a few amongst the many that seem to be forever changing their colour, but how do they manage to keep their locks long and healthy while exposing their hair to harsh chemicals?
The answer is simple… JASON's natural Long & Strong Jojoba shampoo and conditioner contains vegetable proteins to strengthen hair while pure, imported botanicals, vitamins and minerals help to correct damage caused by heat, over exposure to the sun and use of chemicals such as hair dyes and bleach. Plant-derived Panthenols penetrate the hair shaft delivering long lasting moisture, reducing split ends to leave your hair healthy, glossy and with bounce that even Cheryl would be envious of!
JASON Natural Jojoba Shampoo & Conditioner RRP £6.29 480ml
For further information on JASON natural care products visit jasonnaturalcare.co.uk.