Sony +U app set to inspire volunteering among Facebook generation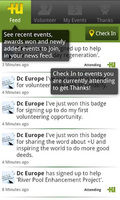 Sony has announced the release of +U, a revolutionary Android mobile app that sets out to deliver real world, bite-size volunteering opportunities to a new, socially motivated audience.
Created in partnership with YouthNet – the organisation behind the UK's national volunteering database, Do-it – the app will give charitable organisations a vital boost by inspiring a new generation of volunteers to put themselves forward.
To maximise the app's potential across Europe, Sony will release the +U code open source to allow any individual or organisation to use or repurpose it for free. Sony is also running a collaborative development event with Good for Nothing at the end of March to help European charities modify the app to fit their needs.
What is +U?
+U is a revolutionary mobile app that places local volunteering opportunities in the palm of your hand
It matches potential volunteers with charities and causes in their local area making volunteering faster, easier and more social
+U combines geolocation with elements from social networking and gaming. Users are rewarded badges based on tasks they complete, and can share their achievements on Facebook
In the UK, the partnership with YouthNet will provide +U users with many volunteering opportunities near them
The story so far
+U was the final concept to emerge from a joint Sony and WWF crowdsourcing initiative called Open Planet Ideas
Open Planet Ideas challenged the online community to come up with ways to repurpose existing technology to solve social and environmental challenges
Sony received hundreds of brilliant ideas, but the community and expert panel chose +U as the idea they would take forward based on its potential to have a positive impact
Open Planet Ideas is part of Sony's broader focus on the role technology can play in living more sustainable lives
What's next?

Launching +U is just the start. The code will be released open source under a Simplified BSD license on GitHub, allowing any individual or organisation to pull apart and repurpose the code to fit their own needs for free.
To help bring the app to an even broader audience, Sony is running an app development event, Make/Time, with non-profit creative collaborators Good for Nothing on 29th-31st March. The event will bring together mobile developers, designers and thinkers to innovate around the code further, helping French charity Espace Bénévolat, UK charity Thames 21 and others across Europe modify the app to fit their needs. Like to be involved? Find out more here.
A 'Make/Time' guide will also be made available to provide insight into how organisations can engage volunteer developers, designers and business leaders in helping to repurpose the +U code to fit their needs.
Magdalena Wasowska, General Manager of Technology and Software Centre at Sony: "The Open Planet Ideas platform provided members of the online community with direct access to Sony and other partners including WWF and IDEO experts. This exciting approach to collaboration meant that a really diverse group of people were able to innovate together in order to address key social and environmental challenges. We hope that the +U application will be of interest to the many hard-working volunteering groups across Europe; we hope that they are able to utilise this back-end solution in order to create further awareness, support and action for their worthwhile causes."
Susanna Halonen, Assistant Manager Sustainability, Marketing Communications at Sony: "+U represents the peak of more than 18 months of collaboration, creation, development and research culminating in the launch of a unique application. The potential to use the app across Europe and beyond will make volunteering more accessible than before and allow us to begin to realise the impact, and potential, of our actions on society. The resulting +U app is a natural extension of this project's philosophy and we're really excited about the possibilities it can deliver."
Emma Thomas, CEO of YouthNet: "Do-it exists to make volunteering easy and the development of +U provides huge potential for the sector to develop the way that we encourage and motivate people to volunteer.
"Nearly three quarters of people who undertake volunteer work do so to make more effective use of their spare time and, through +U, people will potentially be able to browse and apply for opportunities wherever and whenever it suits them.
"We're delighted to have worked with Sony on this project, which we feel has the potential to encourage more people to give their time, explore new opportunities for volunteering and make a really positive contribution to local communities."
Dan Burgess, Good for Nothing: "We really liked the look of Sony's collaborative project, Open Planet Ideas. The result - +U – has real potential to help charities find volunteers in their local area. We are delighted to be part of the next stage, drawing together a crack team of developers, designers and thinkers to adapt the code to see if we can create some magic."