48 hours in Reno, Nevada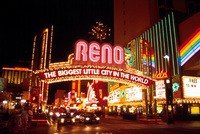 Let Reno be your guide to one of America's coolest states and discover the best recommendations for spending 48 hours in the 'biggest little city in the world'. Situated in West Nevada, at a Truckee River crossing, it became a town in the 1860s, and was named to honour the fallen Union general Jesse Lee Reno.
Friday, 2pm: Check into Peppermill Resort (2707 South Virginia Street, Reno; rooms from $30, peppermillreno.com), situated just outside the city centre, it embodies the character and style of Reno's flashier neighbour, Las Vegas. Recently expanded, the Tuscan-themed resort boasts a 17-story hotel tower, spa, 9 restaurants, 16 bars and lounges, pools and a nightclub.
3pm: Drive into the arts and culture district of Reno, Truckee River, where local paintings and sculptures meet fine art. The arts district, which has recently undergone an urban renaissance, is nestled in the beautiful downtown area of the city, which boasts several different art galleries and museums.
The Nevada Museum of Art (nevadaart.org) consists of over 1.900 works of art, organised around the themes of land and environment, while The Stremmel Gallery (stremmelgallery.com) specialises in contemporary paintings, drawings and sculpture from American and European artists.
The gallery even offers a resale and direct sale service of single pieces or whole collections, meaning you can take a little reminder of Nevada home with you. General admission to The Nevada Museum of Art is USD $10 (approx: £6.40). Admission to The Stremmel Gallery is free. Return to your hotel to freshen up.
7pm: For an evening alongside the river, head into Downtown Reno by taxi to enjoy an early evening drink at The Imperial Bar and Lounge (imperialbarandlounge.com). With an old-school happy hour from 5-7pm, there's a large craft beer and wine selection alongside an impressive cocktail selection. Imperial is set in a renovated historic building with 20-foot ceilings, exposed steel beams, natural brick walls, cushy booths and couches beside oversized open windows.
8.30pm: Walk round the corner to the 4th Street Bistro (4thstbistro.com), a restaurant renowned for its focus on fresh, sustainable, local and seasonal ingredients. We recommend the duck leg confit or the pan-roasted Halibut.
Saturday, 9am: Enjoy breakfast at the Peppermill Resort and Casino, and take advantage of some of its pools for a morning swim.
11am: Drive into Downtown to enjoy their homemade quiches for breakfast at Dish Cafe (dishcafecatering.com), a budget eatery famous for its quirky comfort food.
1pm: Drive out of Reno, towards North Lake Tahoe, situated 6,225 feet above sea level with breathtaking views of the mountains surrounding the lake. Take a drive along Lakeshore Drive, where celebrities have secluded million-dollar homes on the shore of the lake. An optional tour is the Thunderbird Lodge (thunderbirdtahoe.org), a large stone home hidden among the trees on the northeast shore of Lake Tahoe. It has a fascinating history and is a great example of the historic stone lodges built around the lake.
3pm: Drive to the Hyatt Regency Lake Tahoe (laketahoe.hyatt.com) for an afternoon snack and drink. If the weather is clear, we recommend taking your snack outside to a fire pit or lounge area overlooking the hotel's private beach and shoreline.
6pm: Drive further south to Stateline and settle in for an early dinner at the Edgewood Restaurant (edgewoodtahoe.com), which was voted by OpenTable members as the most scenic restaurant at Tahoe. It is part of the Edgewood Tahoe Golf Resort, the only golf course that sits right on the shore of the lake. The menu boasts seasonal fare and some organic choices, as well as unusual items such as elk chop and lobster gnocchi. The lakefront restaurant is the perfect place to watch the sun set over the lake. Return to Reno.
Sunday, 9am: For your final breakfast in Reno, head to Squeeze In (squeezein.com) or Peg's Glorified Ham & Eggs. Squeeze In is a continual presence on American cooking shows, and Peg's is definitely a locals' favourite. It's all about large portions, greasy, hearty breakfast and the old-Reno vibe.