Where to shop in Miami when you are visiting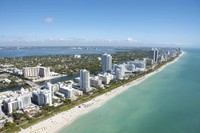 Miami is well known for its warm climate, white sandy beaches, and tall palm trees, but the city is also an amazing destination for shopping. From large malls to independent boutiques, there are plenty of places to shop till you drop.
If you are intending on visiting The Magic City, as Miami is affectionately known, here are some of the best places for shopping.
Bal Harbour Shops
With the warm weather and blue skies of Miami, it should be no surprise to learn that there are various open-air malls and shopping districts in the city.
Bal Harbour Shops is the original indoor and outdoor luxury shopping destination. It opened back in 1965.
You will find various internationally-renowned designer shops in the area, including the likes of Prada, Gucci, Chanel, Tiffany & Co., and Alexander McQueen.
So, if you are after some luxurious fashion, accessories, jewellery, or perfume, head to Bal Harbour Shops, which is one of the highest-grossing shopping centres on the planet.
Lincoln Road
The pedestrianised Lincoln Road in the South Beach region of Miami is ideal for buying both souvenirs and big-brand-name products.
There are also lots of other fun things to do in the area besides shopping, though. For instance, you could visit the Skyviews Miami Observation Wheel or go for a boating trip on Biscayne Bay.
For more attractions in South Beach and throughout the city of Miami, check Viator for inspiration.
When it comes to shopping, Lincoln Road is crammed full of independently-owned boutiques and well-known brands like Apple, J-Crew, and Forever 21.
Flagler Street
You are sure to have seen the historic Flagler Street in lots of movies and TV shows. World-class stores like Macy's, La Epoca, and Marshalls can be found among the hundreds of shops that run the length of the street, which is located right in the heart of the city.
And if you have a passion for jewellery, you will want to head to the famous Seybold Building on Flagler Street, which is home to an impressive 280 jewellers.
Miracle Mile Shopping District
Littered with gorgeous boutiques, fine shops, and speciality stores, the shopping in the neighbourhood of Miracle Mile is simply miraculous.
In fact, there are so many world-class shopping destinations in the Miracle Mile Shopping District of Coral Gables, that it would take you at least a week to discover all of them.
If you are looking for more bespoke items, from souvenirs to clothing, you will want to check out the shopping paradise of the Miracle Mile Shopping District.
Miami Design District
One of the hippest shopping areas in the city is the Miami Design District. You will find world-famous names like Cartier, Celine, Hermès, and Fendi as well as a number of upscale boutiques.
Furthermore, the whole district is consumed by interactive public artworks and cutting-edge architecture, to make your visit to the district even more memorable.
So, if you love art, design, and shopping, head to the hip and happening Miami Design District.
Washington Avenue and Española Way
If you are into vintage wear more than luxurious attire, you will want to shop around Washington Avenue. In addition to vintage clothing shops, you will find stores selling the latest designer jeans and clubwear.
A couple of blocks north of Washington Avenue, you will discover Española Way, which has some of the best boutiques in all of Miami.
The numerous boutiques and cafés of Española Way in the South Beach region of Miami are set against a Spanish Mediterranean architecture backdrop, so it is a great place to hang out and shop for unique souvenirs.