Potential $4 million for new bike and pedestrian infrastructure in Columbia SC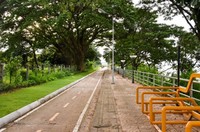 This month, the United States House of Representatives passed a $715 billion transportation package, which includes $53 million for eight projects in South Carolina. However, lawmakers must take a few more steps before the funds can be delivered to the Palmetto State.
The "INVEST in America Act" was utilized by the House in discussions on a bipartisan infrastructure plan, but it will almost definitely be subject to major modifications before it can pass the Senate.
Bicycle Accident Law in Columbia
According to South Carolina law, "A person riding a bicycle upon a roadway must be granted all of the rights and is subject to all of the duties applicable to the driver of a vehicle by this chapter, except as to special provisions in this article and except as to those provisions of this chapter which by their nature can have no application."
If you're ever the victim of a driver while riding a bicycle in Columbia, you should know your rights to legal compensation, and seek a good bicycle attorney.
According to a new study published by Smart Growth America and the National Complete Streets Coalition, titled Dangerous by Design, over 188 pedestrians died in traffic accidents in the Charleston-North subway zone between 2010 and 2019.
Charleston ranks in the top 20 metro locations in the US for pedestrian fatalities per 100,000 people, according to data from 2009 to 2019. During that time, South Carolina was the fourth-worst country in terms of death rates.
The Charleston region is still one of the worst places in the country for pedestrians and cyclists. Pedestrian security efforts, however, are gaining political support, according to supporters.
Democratic US Rep. John Clyburn announced that $20 million has been granted in the US House for road and transportation upgrades in the 6th Congressional District. 4 million dollars was set up for the construction and execution of cycling and pedestrian roads in the capital.
"I am pleased the House has approved these community priorities, which will address needs identified by local entities," Clyburn said in the release. "These project allocations mark the first opportunity for members of Congress to respond directly to community requests in more than a decade."
Other Projects to Benefit from Federal Aid
U.S. Sen. Lindsey Graham, R-Seneca, who is the ranking Republican on the Senate Budget Committee, had requested nearly $44.5 million for these projects, which include:
Acquire land for Interstate 73, which would connect Interstate 95 and Myrtle Beach.
Constructing a new entrance to Charleston International Airport.
Construction of a road network to relieve traffic congestion on the Aiken Whiskey Road.
Improving the wastewater collection and treatment system in Dorchester County.
Graham has also asked for over $230 million in military projects at Palmetto state sites, including $122,6 million at the Marine Corps Air Station in Beaufort, to support the F-35 training unit.
"I believe it is important that elected officials have a say in how taxpayer money is spent on infrastructure and not rely on bureaucrats in Washington to protect South Carolina's interests," Graham said in a statement. "The funding requests for member-directed spending items are public record. Every person will be able to judge for themselves if these are worthwhile requests."
SCDOT's Role in Raising Awareness
The SCDOT has formed a statewide advisory group on bicycle and pedestrian facilities, chaired by Chief Executive Officer Elizabeth S. Mabry, to help the transportation agency in providing walking and bicycling services.
The State Senate, the House of Representatives, numerous state government departments, South Carolina AARP, Palmetto Conservation Organization, two notable public workers, and many physical activity or child safety and education groups made up the Committee.
Following the success of the conference, the South Carolina Transportation Commission approved a resolution stating that bike and walking accommodations should be included in the Department's routine planning, design, construction, and operations, as well as in the day-to-day operations of its transportation system.
'More mountain biking and walking provides the potential for cleaner air, improved population health, less traffic congestion, more living areas, less reliance on fossil fuels and their foreign sources, and better use of road space and resources,' according to the Resolution.