Cycling from Hanoi to Ninh Binh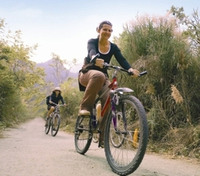 This trip makes for a truly unforgettable experience, as travellers pass between towering limestone peaks, rice fields, lotus flower ponds and local villages. As they cycle along the path between villages, they'll have the chance to meet local people, see their daily lives and even have a cup of tea and chat with them.
Ninh Binh province is famous for day trippers from the capital of Hanoi, and there are now high end properties which can satisfy even the most sophisticated travellers. This luxe adventure in Ninh Binh has been designed for travellers to discover the best that Ninh Binh has to offer by bike.
This three day excursion is for all types of travellers, including families and small groups. Travellers will stay at the best available hotels in the region. Further, Guests will be fully supported by a van and a guide who is a cycling enthusiast with extensive experience and a passion for providing top notch service.
"Your trip kicks off in Hanoi, as two hour drive will take you to the rural town of Ninh Binh in North Vietnam. Located in one of the most beautiful parts of Vietnam, it is home to dramatic scenery, historical relics, religious pilgrimage sites and endangered animal sanctuaries. Just 100 km south of Hanoi, Ninh Binh is a province of astounding natural beauty with limestone peaks whose splendor is often said to surpass that of Halong Bay. It is even often referred to as "Halong Bay on land." You will discover the charm of Ninh Binh by bike as you visit Van Long Nature Reserve, Cuc Phuong National Park, Bai Dinh Pagoda (the biggest pagoda in Vietnam), the Hoa Lu ancient capital, Trang An (a new candidate for Natural World Heritage Site listing), Tam Coc and Bich Dong Pagodas, and the famous Phat Diem Cathedral." Said David Nguyen, Sales and Marketing Manager of Luxury Travel Ltd
"Cycling means you are truly among the friendly and welcoming local people. You'll be greeted by the curious children who often run out of their homes yelling 'hello, hello!' or "Tay" when you pass through their village. Our tour guide will do a fantastic job of guiding you around this beautiful countryside, explaining the history and culture of his people. Our bikes are top quality, lightweight, and can be adapted according to the terrain. We can also accommodate riders of all sizes, including children" said bikelover Pham Ha, Founder and CEO of Luxury Travel Ltd.
For more information, visit luxurytravelvietnam.com.