10 good reasons to visit central Vietnam this autumn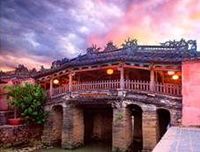 Following the recent relaxation of visa regulations for Britons travelling to Vietnam, there has never been a better time to plan a trip to this enchanting corner of south east Asia with its mesmerising scenery, rich history and culture, tantalising food, and pristine beaches. This autumn sees the launch of new local tours, an increase in direct flights from London as well as an exciting array of festivals and attractions.
Guests staying at the luxurious The Nam Hai will be perfectly placed to discover central Vietnam with many must-see gems on the doorstep as well as the introduction of two new tours for September including an experiential Minority Village Adventure and a spectacular helicopter tour over Da Nang.
1. New Visa regulations for British citizens
Between 1 July 2015 and 30 June 2016, Brits will no longer need to apply for a visa to enter Vietnam if they are planning a trip of 15 days or less. This also applies to French, German, Italian and Spanish citizens.
2. Minority Village Adventure
From autumn, guests of The Nam Hai will be able to enjoy a one-day journey of discovery, deep into Vietnam's central highlands taking in the ethnic minority Co To villages of Bho Hoong and Trung Mung. Guests will voyage into the mountains taking in the spectacular scenery as they pass through remote mountain villages, hamlets and tea plantations.
The day begins with a village walk through Bho Hoong with a local resident guide followed by a delicious lunch in a local community house. On arriving in Trung Mung, guests will meet the former king of the Co Tu people, Y Kong and his family and enjoy a cup of traditional Vietnamese coffee or CoTu rice wine while listening to his anecdotes on life in Vietnam's ethnic minority villages. Price: £92 per person based on a minimum of two people sharing a car.
3. Bird's Eye View of Da Nang
New for September from The Nam Hai is launching a once-in-a-lifetime helicopter tour of Da Nang and the surrounding area, providing an amazing bird's eye view of the dramatic landscape. Guests will enjoy an ariel-view of The Marble Mountain, the Han River; the fire-breathing Dragon Bridge, the Son Tra Peninsula, the Linh Ung Pagoda, and Da Nang Beach. Price: £112 per person including transfers.
4. New Dreamliner B787-9 from Vietnam Airlines
The new Vietnam Airlines B787-9 Dreamliner is due to launch this autumn with direct flights from Heathrow to Hanoi or Hoi Chi Minh City. The number of flights will also increase from four to six flights per week, eventually moving to a daily service from Summer 2016. Return fares from London Heathrow to Hanoi or Hoi Chi Minh City start from £423 per person. Vietnam Airlines operates internal flights from Hanoi to Da Nang with a journey time of one hour and 20 minutes and fares start from as low as £20 www.vietnamairlines.com
5. UNESCO World Heritage Sites
Vietnam is brimming with rich history and culture, boasting no less than seven UNESCO World Heritage sites, with three of these located in central Vietnam including:
Hoi An – a well-preserved example of a Southeast Asian trading port from the 15th to 19th centuries with buildings reflecting a unique blend of local and international architecture
My Son Sanctuary –built during the 4th to 13th centuries, this site houses 70 abandoned Hindu temples and tombs which were once a place of holy worship for the royal family of Champa
Complex of Hue Monuments – located in the city of Hue which was once the capital of Vietnam until 1945. The ancient site features hundreds of monuments and ruins including the Forbidden Purple City, once the residence of the royal family
The Cham Islands - a diver's paradise, brimming with coral and marine life, comprising a small group of eight unspoilt islands which form part of the Cu Lao Cham Marine Park, a world Biosphere Reserve with UNESCO status.
6. Hoi An Full Moon Festival, 26 September, 26 October, 25 November, 24 December
Taking place on the 14th day of the lunar month in the UNESCO protected town of Hoi An, the Full Moon Festival is spectacular, providing a glimpse into what life would have been like over 400 years ago. During these dates, cars are not allowed in the city and electric lights are turned off as the streets are illuminated with thousands of brightly coloured lanterns. The atmosphere is magical with the sounds of traditional bamboo flutes, drums and fiddles filling the winding streets of the old port town.
7. Unspoilt Beaches
The region of Hoi An is surrounded by an abundance of idyllic beaches with a buzzy beach scene and numerous stalls selling delicious fresh seafood including the pristine My Khe beach, once voted by Forbes Magazine as the sixth most beautiful beach in the world; Ha My Beach, located in front of The Nam Hai; An Bang Beach, one of the 50th best beaches in the world and Cua Dai Beach.
8. Street Food
As the popularity of street food goes from strength to strength, central Vietnam offers visitors the opportunity to sample some of the world's finest. The region's street food is characterised by its own spicy strong flavours and no trip would be complete without a visit to one of the many street side food vendors serving delicacies including Banh Mi (Vietnamese-style sandwiches), Bun Bo Hue (spicy noodle soup), Banh Ep (griddled pork pancakes) and Thit Nuong (barbecue pork and noodle salad).
Top Street Hotspots in Hoi An:
Ba Bui on Phan Chu Trinh Street for their famous Hoi An chicken rice
Ba Le Well on Phan Chu Trinh Street for legendary griddled pork pancakes;
Banh My Phuong on Phan Chu Trinh Street for the mouth-watering Vietnamese-style sandwiches
Trung Bac at 87 Tran Phu Street for iconic Hoi An Cao Lau which is an authentic local dish comprising noodles, smoky pork, crisp greens, crunchy croutons and bean sprouts
9. Coffee
The fact that Vietnam is the second largest producer of coffee in the world remains largely unknown. The Vietnamese certainly know their coffee with numerous street stalls and cafes serving dark roasted coffee beans from the country's central highlands. Vietnamese coffee is typically brewed in a small drip filter called a phin and is sweetened with condensed milk. There are many different variations including an iced version.
The Reaching Out Tea House located at131 Tran Phu, Hoi An 510, is a great place to sample authentic Vietnamese coffee and tea.
10. Top Tailors
Hoi An is renowned for its numerous talented tailors which are dotted around the city, many of which can be traced back through the generations. These skilful craftsmen can create material masterpieces in as little as 24 hours. For those that have something specific in mind, the tailors can be given images of dresses, coats and suits and are able to create perfect replicas for a fraction of the price of the catwalk originals.
Yaly Couture at 358 Nguyen Duy Hieu Street and Bao Khanh Silk at 101 Tran Hung Dao Street are two recommended tailors in Hoi An.
Stay: Book The Nam Hai's Explore in Style package from £478 per room per night (3 nights minimum). This three night package includes a half-day private tour to the UNESCO World Heritage Site of Hoi An, a full-day private tour to the ancient imperial city of Hue and a three-course Vietnamese dinner for two at The Beach Restaurant.
For more information about The Nam Hai, visit thenamhaihoian.com.